All businesses want more marketing leads and sales. Salespeople would love to do less activity to get the same conversion rates. Better still, lead growth and conversion improvement makes for fantastic increases in turnover.
Sales training is a requirement to make an impact.
Zaahn Johnson and CEO Adam Steinhardt discuss how you can apply the principles of sport to your sales team.
Are you looking for the edge in your marketing?
Adam Steinhardt takes his education as a two time Australian Commonwealth Games pole vaulter, and applies it to sales and marketing.
In sports, you are shown a technique, you then study it, become an expert in it, then you train and train and refine the performance. Can an athlete be shown a skill once and be perfect? No. Neither can a sales team. Repetition allows someone to perfect their skill.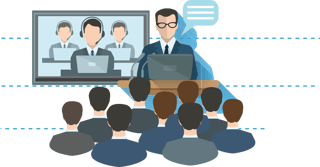 Are you doing enough sales training?
It doesn't matter how exceptional your marketing team is, you still need to close the deal. You can be amazing at lead generation but you still need to convert the sale.
Are you ever frustrated by retail team members who don't know what they are doing? Showing your team a technique once is not enough. It needs to be repeated and re-trainined over and over.
Supplement your sales training with a powerful automated sales and marketing tool like HubSpot and you get more time to close leads and get deals.
Lack of resources, such as staff, funding, and time, remains the biggest obstacle to successful lead generation for 61% of B2B marketers. (BrightTALK, 2015) (Source: http://www.hubspot.com/marketing-statistics)
As sales traininers and marketing experts, The Kingdom team have discovered you can increase your team's confidence by training them and drilling them again and again. This repetition leads to more confidence and stronger sales
Just like an athlete, confidence means they can deliver better under pressure.
So train your sales staff to be best they can be in all situations.
44% of salespeople give up after one follow-up
How often should you do sales training?
Look at sports. Top level athletes can be training 13+ a week. The bare minimum should be 2-3 sessions a week, where your team can be educated and drilled. Sales staff have a lot to understand, such as competitors and the market, and must be trained accordingly if they are expected to do a good job.
Training also shows investment in your staff, which in return makes them feel empowered. You must be prepared to develop your sales team if you want them to thrive. Sales training can also be great culturally and improve teamwork between marketing and sales staff.
App of the day
Sales Pro is the app of the day, a part of HubSpot's automated marketing and sales software. It gives you the ability to schedule emails so they're sent when your contacts normally check their inbox.
It also allows you to see whether an email has been opened. Sales Pro is a great email marketing application that also includes a variety of tools such as templates, meeting links and more.
What to continue to expand your knowledge? Check out our previous episodes of the Kingdom Live.
Discover more:
5 Free Sales Training Resources to Fire up Your Sales Team
What Is HubSpot and Who Should Buy it?
1 Remarkable Way to Get Sales and Marketing Unified