Inbound marketing is a marketing methodology of attracting people to your website with engaging content then leading them through the sales journey eventually converting the sale.
The Kingdom are inbound marketing specialist and have over 30 years of experience in the business.
Inbound marketing is made up of three stages; Attract, Engage and Delight. Each stage has a specific strategy and content built to support it, helping your business grow faster and better.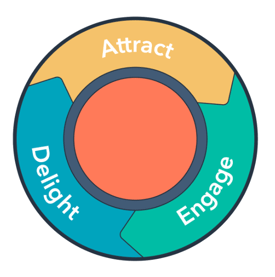 What is HubSpot, and how does it work? Find out more from The Kingdom, HubSpot Diamond Partner.
Here are some helpful links to discover more on Inbound Marketing:
How Live Chat Can Boost Your Inbound Marketing Performance
The Kingdom Live: Discover how Inbound Marketing and eCommerce Are The Perfect Match
It's Time to Take a Step Back and Examine Your Inbound Marketing Goals
Episode 53 - Frictionless Sales and Inbound 2019
The Kingdom | Adelaide Inbound Marketing Agency | What makes inbound marketing so powerful?
Content Covered in HubSpot Inbound and Design Certifications
The 6 Most Exciting New HubSpot Features from Inbound 16
Why Your Inbound Marketing Needs a Blog and the Key to Its Success
5 Reasons Why Great Inbound Marketing Needs a New Web Page Every Day
Content Curators, Programmers, Web Designers, we need you at The Kingdom | Inbound Marketing Agency
The Best Benefits of Using an Inbound Marketing Strategy
Four Steps To Get Inbound Marketing ROI
Episode 33 - Why You Must Focus On "The Why" You Are Doing inbound Marketing
The Kingdom HubSpot Team | Adelaide Inbound Marketing Experts
Episode 39 - Is Inbound Marketing The Same As Content Marketing?
We Compare Inbound Marketing vs Outbound Marketing or Should You Use Both?
The Science of Inbound Marketing
How to Avoid Disappointment with Inbound Marketing and HubSpot
Why the Sales World Needs Inbound Marketing
Adam Steinhardt Presents at Inbound 2016
The Kingdom HubSpot Platinum Partner Beginner's Guide to Inbound Marketing
How An Inbound Marketing Strategy Can Make a Beautiful Website
5 Key Components of a Remarkable Inbound Lead Generating Website
Growth Hacking vs. Inbound Methodology
International recognition and awards for Adelaide Inbound Agency
Episode 5 - Landing Pages, Progressive Polling and Being Inbound Fit
Episode 31 - Why You Should Be Updating Your Inbound Website Daily
Why Inbound Marketing Is Perfect for Real Estate
A quick summary of The Kingdom services
Website design
We build personalised, responsive websites using HubSpot that interest your prospects and turn them into sales leads.
Automated Marketing
The Kingdom programs your HubSpot portal to produce automated marketing lead generation.
Content Marketing
Our innovative team creates engaging blogs, Videos, eBooks, Podcasts, and website pages to get your business engagement.
Social Media Management
We throw petrol on your content fire with social media tactics that ignite web traffic.
Inbound Marketing
We lead nurture your prospects down the sales funnel using your website and interesting and appropriate content that converts them to customers.
eCommerce and HubSpot
As Shopify Partners, and Ecwid Partners we are eCommerce experts. We integrate these platforms into HubSpot using the HubSpot eCommerce Gateway APIs
HubSpot API Integration with 3rd party apps
We integrate your legacy applications with HubSpot using the comprehensive HubSpot API libraries, PHP and JSON coding.
Outsourced marketing for your business
We provide a comprehensive outsourced marketing department for your business.
App Development
We create custom solutions for your HubSpot deployments using Zapier, Python, JSON, Mongo DB, Node JS.
Custom Quoting Systems
Using FileMaker Pro we are able to build you a custom quoting system that connects with HubSpot and your existing systems.