The Kingdom is a HubSpot Platinum Certified Partner. As a HubSpot Partner, we provide the infrastructure to support your HubSpot deployment.
As expert Certified operators of the HubSpot Automated Marketing Software Platform, we are fast and skilled at inbound marketing. We provide a service that combines the talents of 10 people, all for the price of one marketing professional.
An outsourced marketing service is viable because the combined knowledge we hold is too complex and specific for even a qualified person.
We are very efficient with our use of HubSpot. It's our main tool. It's all we do. We are specialists and as such, we are fast and efficient, making outsourcing your marketing great value for money and a powerful way for you to get a competitive advantage.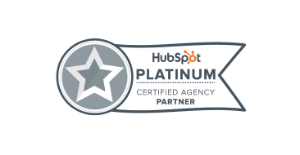 Our outsourced service includes:
Website creation and audit.
Blogging.
Creation of all forms of digital content including eBooks, white papers, podcasts, video, slideshows and webinars.
Social media publishing.
Social media monitoring.
The operation of the HubSpot Portal.
Keyword management.
Creative development.
Strategic marketing.
App integration.
E-Commerce to HubSpot integration.
Wordpress migration and integration to HubSpot.
Search Engine Marketing
Social media advertising.
Adwords management.
Reporting.
Analytics.
Competitive web analysis.
HubSpot Masterclasses.
HubSpot training.
HubSpot template creation.
HubSpot strategic support.
Audience remarketing.
We are a full-service inbound marketing agency
Our dedicated team helps you to engage your customers by creating and distributing valuable, relevant and consistent content that answers their questions and gives them the solutions they're looking for, in turn driving profitable customer action back to you.
Our HubSpot auditing services include:
Audit and completion of the 10 setup stages of the HubSpot Portal.
The digital research and establishment of 950 keywords.
The establishment of the rival insights dashboard to gain insight on your competitors, as well as a report back to you to show how it is all going.
The tracking code insertion for non-HubSpot site pages.
Full audit of your current social media assets.
The setup of your social media accounts that you have in existence.
The setup of your social media publishing schedule.
The importation of your contacts and harvest/import of other email sources.
The HubSpot CRM setup and integration to your HubSpot marketing portal.
Sidekick integration into your email account and the HubSpot CRM.
The harvesting of email accounts from your social platforms.
The blocking of your IP address and your employees (we don't want your web clicks to ruin the party).
Setup of lead scoring and Workflows.
Setup of Personas.
Setup of Reports.
Setup/audit of your CRM Lead Stages.
Setup and audit of all social hashtag monitoring and Twitter streams.
Creation and coding refinement of blog, landing page, Call-to-Action and email templates.
Setup and analysis of competitors.
Establish audience remarketing in Facebook.
Setup of Linkedin Ads.
Setup of Google Adwords with keywords.
Outsourced marketing packages are available from $6000 per month, ranging up to $20,000 for enterprise customers.
All this is part of our service to you. Our daily goal is to be the finest HubSpot Certified Partner in the world.