What is Automated Marketing software?
HubSpot simplifies marketing by pulling together everything you need to grow your business in one easy-to-use cloud software tool.
As your content marketing agency, we use HubSpot's Content Management System (CMS), blogging, Search Engine Optimisation (SEO), and social media tools to generate more traffic and leads from your website.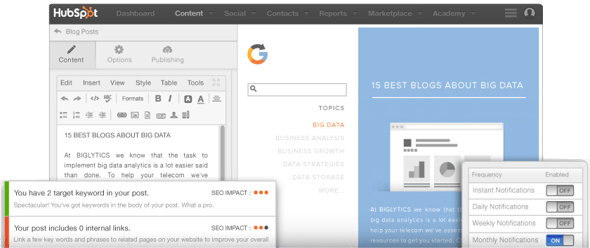 As an expert Inbound Marketing Agency, we use HubSpot's landing pages, call-to-action module and testing functionality to drive more sales opportunities from your website.
We use HubSpot's segmentation, lead nurturing, and email marketing tools to ensure your website leads are sales-ready.
Then, we engage HubSpot's measurement tools to analyse which marketing campaigns are generating leads, to qualify leads by sale-readiness, and to tailor content for greater impact.
The free CRM built into HubSpot, allows your business to get rid of the old Excel lists and get a modern day sales lead generating tool. This integrates seamlessly with the HubSpot Marketing tool.
Having one sales and marketing platform improves the productivity of your marketing team. HubSpot is a brilliant lead nurturing program.
Nurtured leads produce, on average, a 20% increase in sales opportunities versus non-nurtured leads. [Source: DemandGen Report]
It's an impressive program, with so much power. If you would like to book an introductory get to know you 15-minute call, click here.