Understanding the power of an API and how it helps your business.
An overview of the HubSpot API and how it can connect to popular programs like Xero.
What is an Application Programming Interface, more often known as an API?
API is the acronym for Application Programming Interface, which is a software process that allows two applications to talk to each other.
The power of the API allows your business to connect to many different cloud Apps, and by doing so, share the same information.
How are APIs kept secure? The API Key?
The API key is a long string of letters and numbers that acts as the password to allow both programs to talk to each other. Each API call is done with authentication included in the API exchange to make sure security is maintained.
What is an Open API?
An Open API is a library commands that are available for other programs to access. These libraries provide a list of all the syntax on how to access the available open data. If the apps you are using has an Open API, then you get interchange happening.
View the Xero open API library here.
View the HubSpot API Library here.
We take HubSpot and the popular accounting program Xero to give you a simple example of how APIs work.
Connecting HubSpot to Xero by API - How does it work?
Xero has a library of API commands that HubSpot can call upon to pass the data from HubSpot to Xero. HubSpot has an API library that allows the same for Xero.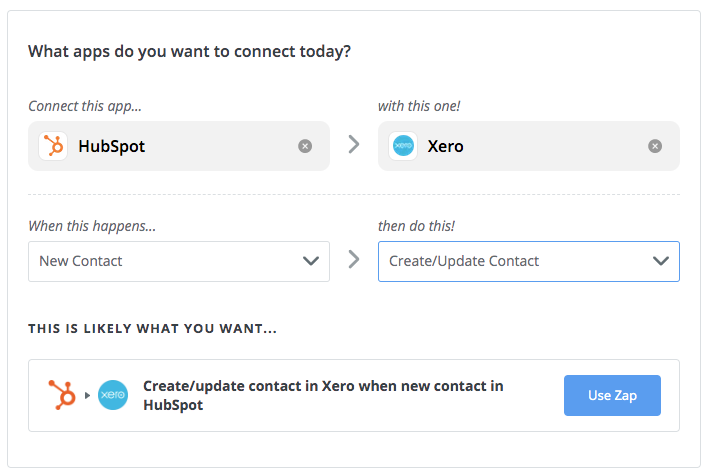 What is Middleware and how does it relate to API's?
Sitting in the middle of this is "middleware" software that acts as a bridge between the two programs like a traffic cop and translator in one. As HubSpot Solutions Partners, our developers make custom middleware or deploy an off the shelf app like Zapier.
A sample of a Zapier contact create algorithm would be:
If a new contact is created in HubSpot, then take that data and create a connection in Xero as well.
When called, Zapier will then GET the data from HubSpot and PUSH the data to Xero.
Zapier performs major tasks with established cloud apps very well. Many businesses may well have integration needs and challenges that go beyond the abilities of Zapier.
If the need for data integration is complex, then a custom API connection is required. The Kingdom builds custom APIs for complicated solutions.
API's are a powerful way to connect HubSpot to many of your apps and get productivity to new heights.
A closed API is what many cloud software databases use to operate. Closed API commands cannot be accessed by other programs; they are used to move data internally in the process of building the information.
Facebook, for example, has hundreds of Public API calls and most probably thousand of closed ones that are secret.
Campaign Warrior, the software built by The Kingdom, has many API calls internally that make the program work.
Because of APIs, it means that the modern-day software world can talk to each other, all borrowing data from each other's programs.
API's make the world go around and are a critical part of the business.
API development is where The Kingdom team can make a big difference to the productivity of your business. Our team of qualified HubSpot developers connects API libraries to achieve sophisticated outcomes.
Here are some of the API connections we have performed:
• HubSpot to Filemaker
• Ecwid e-Commerce to HubSpot then to Microsoft Dynamics
• HubSpot to Xero
• Xero to HubSpot
• Filemaker to HubSpot
• HubSpot to Teamwork
• HubSpot to Slack
• HubSpot to Salesforce
• HubSpot to AgentBox
If you would like to find out more about how we can integrate your different software applications. Have a chat with us today.
Discover more
The Kingdom HubSpot API Integration Process
11 Reasons Why You Should Outsource Your Digital Marketing
The Kingdom Outsourced Marketing Services
Why and How Do You Outsource Your Marketing?
10 Quick Reasons to Outsource Your Marketing to The Kingdom
Want Filemaker Pro Consulting, Training and Programming Help?