The HubSpot CRM is remarkable and it's free!
Your prospects and clients are really important to your business.
Your pipeline is your future success. Isn't it time to get off the spreadsheet and whiteboard?
The
HubSpot CRM
lets you keep all of your contacts in one shareable, adaptable, searchable database.
Once you see it work with Gmail, you will want it.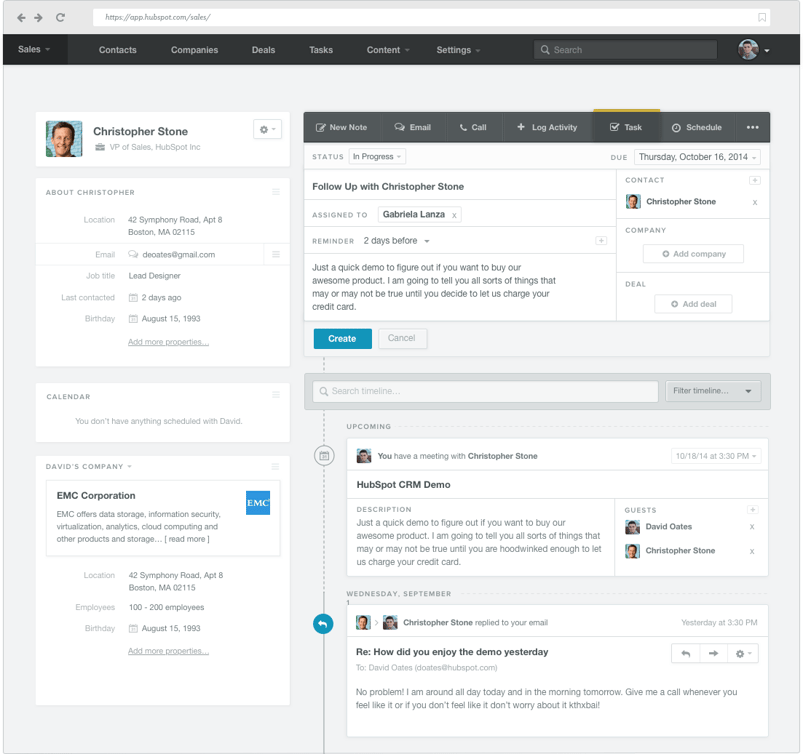 Coordinate HubSpot CRM with your email program to track each connection with your prospects.
The HubSpot CRM automatically organises your sent emails in an easy to read timeline. Even better is the CRM pulls data from the Internet to supplement the information you have already harvested.


Why put in hours physically scanning for and entering data about your prospects? HubSpot CRM creeps the web for you and stays informed concerning more than 13 million organisations (and growing). Simply enter a contact, the HubSpot CRM fills your record with data found from the internet.
The Kingdom has spent hours evaluating CRM products for ourselves and our clients; This is without a doubt the easiest we have seen. It's super intuitive cloud-based software.


Digital marketing is fast paced. We are on a mission to find for your business the best lead nurturing and sales making tools. The HubSpot CRM is simply brilliant.

Not only does it link into the incredible HubSpot Marketing platform, but best of all, it's free. Seriously cool.
Discover more about the HubSpot CRM here.

Learn More About HubSpot
The Kingdom are Gold Level HubSpot Partners - Find out more
Learn more about Inbound Marketing