What is the sales funnel? Don't you eat TOFU? How can inbound marketing and social media attract your customers?
What is the Sales Funnel?
There are 3 parts to the sales funnel:
TOFU: Top of funnel
This is the light content that you use to drive traffic back to your website. Usually, this overview-style content identifies and defines the challenges your consumers are facing.
MOFU: Middle of the funnel
You will begin to show your prospect why you might be the choice for them. You start to position the solution that your company offers as the best choice for the challenges that the prospect has.
BOFU: Bottom of the funnel
Deals with pricing specific questions and how the deal might look. It can be related to trials, demo software, as well as information that assists with decision-making processes.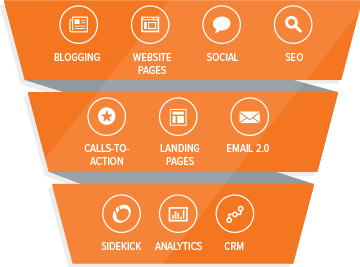 What is TOFU?
TOFU is across the board and applies to digital marketing people and marketing people in general. TOFU focuses on not just talking about yourself, but about the brand and business and showing its personality. Here's how:
4:1:1 rule
4 pieces about yourself
1 thing shared about someone else's site that's relevant
1 retweet or repost something
The 4:1:1 rule is important to ensure that you're never only talking about yourself but instead adding to the conversation.
Use of Social Media
Social media is the channel that pushes your content out, through HubSpot. Repurpose the information you've written about on your blog or website into social media messages. Don't get too focussed on the number of likes on the platform, worry about the number of links back to your site.
Don't jump to BOFU yet. People are interested in discovery first, not converting. In context, we would rarely share a "quote now" landing page on social media. We post 4,000 social media posts a month but have never shared "buy now" information. It is too interruptive. You must build trust first and nurture your leads.
We are focusing on the TOFU steps you should follow to ensure you are attracting the right customers through the right channels. This is the stage where people are considering your business and just finding out about you. Social media is a great way to have people stumble upon your business, so always provide links back to your website.
Your Website Content
The home page must include who you are, where you come from and how you help your customers - as an introduction. You must explain how your business provides the solutions for people that they weren't aware they had. Talk more about how your developed skills will help your customers. Remember, it's not all about you. This shows the personality of the brand and the business.
Team pages are the second clicked on pages after the home page. Customers want to match faces to names and know who the faces are behind the business. Separate pages are better than having everyone on one, as it's easier for the customer to digest and locate people individually. Have pages for all of your employees, not just management. If you have 10 people in your team you need 10 pages.
App of the Week
Grammarly & Hemmingway
Grammarly was first learned of at social media marketing week last year. It finds errors as you type and suggests alternatives to overused words, like a thesaurus. Hemmingway is great to use next which allows you to see which level you're writing at. Level 7 is the level we strive to reach.
Inbound 2016
The Inbound 2016 conference, which Adam Steinhardt and Zaahn Johnson will be attending on 8th November 2016, has 14,500 people attending. If you are also attending, Adam is on the sales track on Wednesday, November 9th at 4:15 pm.
#Inbound16
Do you have ideas for a new topic you would like us to podcast? Let us know on
Facebook, Twitter, Google+ or LinkedIn, or simply email us.
Learn more:
The Sales Funnel: TOFU, MOFU & BOFU Explained
1 Remarkable Way to Get Sales and Marketing Unified
Why The Sales World Needs Inbound Marketing