In this episode, the HubnSpoke team of Adam Steinhardt and Zaahn Johnson collaborate across international waters to discuss one of the most common pitfalls of business blogging and social media strategy - poor quality images.
From California, Adam provides his best tips for making your brand consistent using some incredibly powerful and easy to use apps, before handing it over to social guru Zaahn back in Adelaide to discuss whether Instagram is a necessary part of your business social media strategy.
Let's delve right in as Adam Steinhardt and Zaahn Johnson look at how good imagery can take your message further:
Why are images important to blogging and social media strategy?
It doesn't seem that long ago when blogs and social media were both focused on their words, more than their look. But as more visual mobile technology became the market standard, images have become as crucial to delivering your message as your content. Scientists discovered it takes the human eye only 13 milliseconds to recognise an image, and the quickest eye will see this image up to 20 times faster than vision typically absorbs information.
Images will be the first thing your customer will notice on your blog, or amongst your social feed. It is so crucial they stand out.
What is the best practice for creating social and blog images?
The first and most crucial part of creating eye-catching imagery for your blog or social media is to choose the picture. It is safe to say that there is more stock photography available online than all of the people, houses and cars in the world combined. So how do you choose the picture that will get your message across?

First of all, the picture needs to be relevant to the message you're delivering. Why have a picture of a beach and an ocean, for example, if you're trying to sell farming equipment? Don't be seduced by cliché imagery just because it's common.


Next up, add some text. Perhaps not to every image, but when you have a message to deliver, it's crucial. Statistics show that you get more interaction with your blog post when you have text on the graphic. So picking a photo that doesn't clash with your text is crucial.

This brings us to ensure that you choose a photo that has plenty of space with a single colour in it, that will allow for a contrast between your text and the picture. Choosing an image that has less complexity is better. For example, a beach shot may have a nice amount of blue sky is perfect to contrast for your text.

Last, but certainly not least, be selective with your font. You need to select a font style that is simple and easy to read and then use it consistently across all of your imagery that has text.
Comic Sans was never an ok font choice.
When you're using a visual social media platform like Instagram, maintaining a good mix of the images you're posting is best. Instagram is a great place to move beyond always pitching for sales to showcase some behind the scenes aspects of your business and introduce your team. A good blend of posts, including some text overlays, product shots and some images from within your office will work a treat.
What are the best apps for creating beautiful imagery?
If you're working from your iPhone (sorry Android users), two outstanding apps to help you create beautiful overlay text imagery on the go are WordSwag and Typorama. Both are exceptionally easy to use, and perfect for creating blog headers or imagery for Instagram and Twitter posting. You can use their templates, stock pics or the photos you have taken on your own phone.

But the mother of them all is Canva.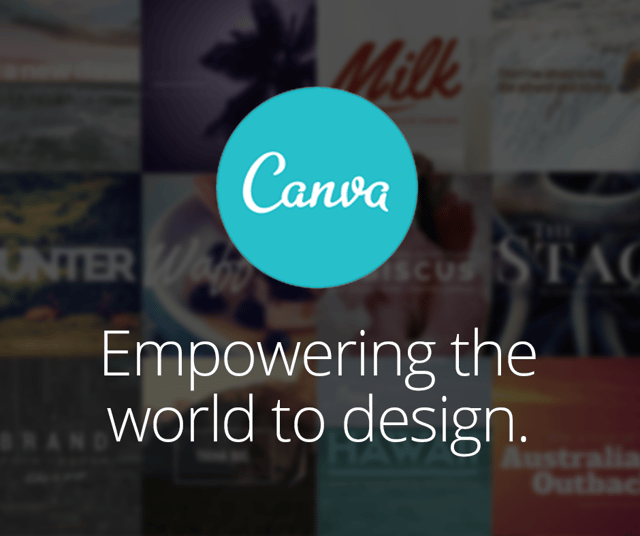 Canva is located in the Cloud, free to sign up to and provides incredible flexibility to create beautiful things.
It has everything. A huge number of inspiring templates, a great YouTube channel for demos and seamless features that allow your entire office to collaborate and share designs with the click of a button. It is desktop only at this stage, but the power of the app trumps anything available on mobile.

Similar to WordSwag and Typorama, you have a choice of brilliant, easy to read typography to select from and match to your brand. Beyond that, it resolves one of the biggest issues for imagery across social platforms - sizing.

Whoever it was that decided that a Twitter banner should be different to a Facebook banner, and completely different to Instagram images deserves a clip behind the ears for causing so much trouble. Canva, though, has a remedy in the form of magic resize button that allows you to rework the same image into different sizes. It doesn't matter which social media you want to post on, Canva will ensure your imagery is always sized appropriately and looks beautiful!
Should every business have Instagram?
With all the talk about how important imagery is in digital marketing, almost every business feels the pressure to have an Instagram account. But should they?

Contrary to popular opinion, our social media guru Zaahn Johnson doesn't think so. Her general rule is that you shouldn't start something you're not going to be able to keep current. There's nothing worse than starting an Instagram account for a business, then in 6 months, you've only done 3 posts. It doesn't help your customer, and it doesn't reflect well on your business. So if you can't keep up with the pace of the platform, best to leave it for the time being.

Want to learn even more about how to maximise your HubSpot experience? Tune into the HubnSpoke podcast to discover how social media expert Zaahn Johnson is using the powerful Lists Tool in HubSpot to create targeted niche Facebook advertising campaigns. Find out more by listening here...