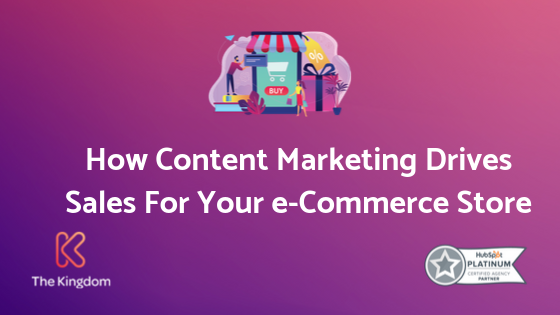 Do you dream of having a Shopify e-Commerce store bustling like a regular retail store?
A busy retail sale store has salespeople that can assist customers guiding them to their solutions, as they walk amongst the product. Shopify offers businesses a way to create a humming storefront in a similar manner, all managed digitally through their e-Commerce platform. Linking Shopify and HubSpot together lets you keep track of your e-Commerce store's activity, allowing you to create a guided shopping experience just as rich as an in-store consultation. Best of all, businesses don't have to sell products to make their online storefront a reality – we've found that selling your services online works just as well.
What is Shopify?
Shopify is the leading cloud-based, multichannel commerce platform designed for small and medium-sized businesses.
Merchants can use the software to create, set up, and manage their stores across multiple sales channels, including the web, mobile, social media, marketplaces, bricks and mortar locations, and pop-up shops.
Companies that published 16+ blog posts per month got about 4.5X more leads than companies that published 0-4 monthly posts.
(HubSpot, 2015. Source: https://www.hubspot.com/marketing-statistics)
The platform also provides merchants with a powerful back-office and a single view of their business.
The Shopify platform was engineered for reliability and scale, making enterprise-level technology available to businesses of all sizes.
Shopify currently powers over 325,000 businesses in approximately 150 countries and is trusted by brands such as Tesla Motors, Red Bull, Nestle, GE, Kylie Jenner, and many more.
So if you are thinking about starting an ecommerce store with Shopify, how do you start to get sales?
How do you get prospects to be engaged and purchased from your e-commerce store in a similar way?
Your web content is the salesperson of your e-commerce platform.
When building a Shopify store, it is worth spending significant amounts of time creating content that helps guide your prospect to stage where they are ready and trusting enough to click "Buy Now".
Your customers begin with a question in Google, and then from there, they search the Internet looking for answers. Is your website going to be the site that gives those searching for Google, the answer? Not unless you provide them the answers in the form of content.
By helping your customers with solutions that they find on the Internet, you are attracting your customers into your sales funnel. You use content marketing to draw your prospects into the Top of the Funnel; known as TOFU. Discover more about TOFU, MOFU and BOFU here.
In the same way traditional brick and mortar customers seek help by attending stores, online searchers visit your website for solutions to their problems.
So are you creating engaging content that gives your prospects the answers they need? Do you know which website pages your prospects are visiting? How do you know what to create?
This is where HubSpot comes into your powerful e-commerce marketing-tech stack.
What is HubSpot?
HubSpot describes themselves below, with an excerpt from their Press Room:
HubSpot is a leading inbound marketing, sales, and CRM growth stack. Since 2006, HubSpot has been on a mission to make the world more inbound. Today, over 21,500 customers in more than 90 countries use HubSpot's award-winning software, services, and support to transform the way they attract, engage, and delight customers. HubSpot Marketing includes social media publishing and monitoring, blogging, SEO, website content management, email marketing, marketing automation, and reporting and analytics. HubSpot Sales enables sales and service teams to have more effective conversations with leads, prospects, and customers.
HubSpot CRM helps sales teams organise, track, and grow their pipeline. All three platforms integrate right out of the box and are available for free to start. HubSpot has been named a top place to work by Glassdoor, Fortune, The Boston Globe and The Boston Business Journal.
The company is headquartered in Cambridge, MA with offices in Dublin, Ireland (EMEA HQ); Singapore; Sydney, Australia; Tokyo, Japan; and Portsmouth, NH.
HubSpot provides you with powerful analytics, automated marketing workflows and a CRM that help you manage your leads. For companies interested in deploying e-commerce, HubSpot drives your inbound marketing and makes it more likely to get the customer to convert on your website.
If you don't have engaging, educating content, then you end up only being found by price bots. Then you end up stuck in an e-commerce price war, where the lowest price wins. You may well drag some sales this way, but you are not likely to make significant profits due to the cost comparison power of the Internet
Content Marketing for e-Commerce Stores
So where do you start with your content marketing program for your e-commerce store
Here are five tips to get started:
Write down all of the questions that Prospects would have about your product, then make a site page answering each one. Ideally, you should be aiming for a minimum of 100 questions.

Make a concerted effort to double the number of pages on your website. More is better. The more pages you have, the greater the reach of your search friendly terms.

Do a search on your competitors and discover what content they using. If they have substantial content, then that is the benchmark, for you to aspire to. If they are weak with their content not offering the answers to customers questions, then that opens the door for you to.

Check out your favourite online brand and list five reasons why you like it. Then replicate those ideas.

Increase the product descriptions on your Shopify store. Explain everything you can about your product to provide comprehensive knowledge to the customer. If pictures apply, make sure to include high-quality photos that will help your prospects understand your products or services.
Make no mistake. While these steps sound simple, they require a dedicated effort to complete. Some businesses choose to kickstart their e-Commerce marketing themselves. This can be a great strategy, since your employees and you already know the answers to your customer's questions. Sometimes, though, this strategy can fail miserably. This usually happens because your employees (and you) already have full-time jobs and lack the bandwith and incentive to make e-Commerce content creations a priority. In this instance, it might be advisable to think about outsourcing your content creation to an inbound marketing agency or HubSpot Partner agency like The Kingdom.
If you would like to learn more about creating content for your website, we have many resources available on The Kingdom. Learn about our favourite content creation tools here, how Shopify and HubSpot offer a perfect e-Commerce inbound marketing solution, or discoverthe best tips to reenergise your marketing here. Additionally, The Kingdom Operations Director, Zaahn Johnson, and Managing Director, Adam Steinhardt, discuss Shopify, HubSpot, and more in the weekly HubnSpoke Podcast.