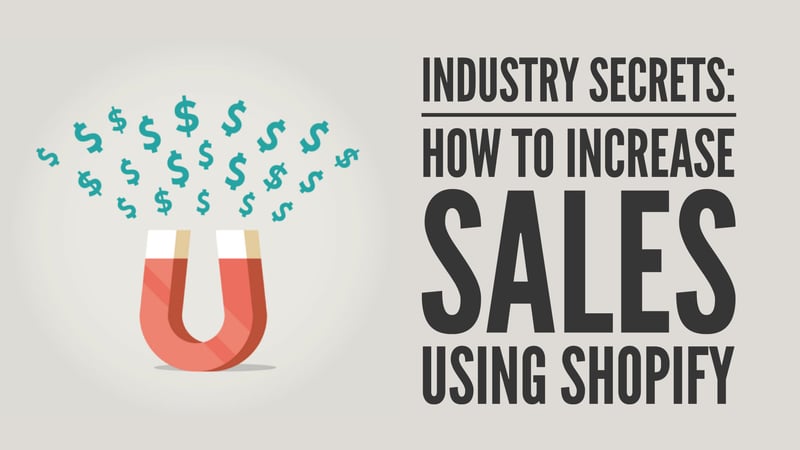 It's the number one question on the tip of every business' tongue.
"How do I increase my sales revenue?"
Simple enough question, sure - yet the answer is anything but.
Many salespeople spend their entire careers on the quest to see those sales figures go up. Many go home empty handed.
So, what's to be done about it?
In this digital age that we live in, the answer is definitely not to blindly continue as you have done before. Cold calling is hellish for both the caller and receiver - and rarely results in any strong leads.
You need to go where you buyers are. Online.
Taking your retail business online is a smart business move.
"But how do I sell my products online" I hear you say. No, not eBay or a form on your website. Shopify is your answer.
Shopify is an incredible online retail platform. Here are some ways that you can increase your sales by using it.
Bring Your Products to Your Buyers
Let's face it, every man and their dog are online nowadays.
And, considering that 61% of global internet users research products online, it's safe to say that online shopping is only going to get bigger.
By using Shopify to sell your products online, you are making it super easy for your consumers to find and buy from you.
More and more businesses - your competitors - are entering into the online retail game. Are you going to keep up, or fall behind? Think hard, because your sales revenue depends on it.
Create a Beautiful Customer Experience
One of the amazing benefits of using Shopify is that there is a stack of different templates and themes that you can use to create the look and feel of your site.
With these themes, you have the ability to transform your retail experience into one like no other. You can delight your potential customers, and make it simple for them to get to know your brand and products.
Even better, Shopify's online purchasing platform is a dream for people to use. It's streamlined and secure - something that your buyers are yearning for.
Making your brand quick, easy and reliable to shop with will help to give your sales revenue a boost.
Create Product Collections
In the Shopify platform, you can create collections to segment your product offerings. Needless to say, this is huge for businesses.
Rather than getting your potential buyers to endlessly troll around your shop or website searching for their desired product, creating collections allows them to quickly find what they want - and buy it. It drastically reduces the frustration felt by your consumers when they can't find what they're after.
With Shopify, you can make online shopping a breeze.
This, importantly, encourages your buyers to pay you a visit. If they can quickly and easily find what they're looking for, and purchase it hassle-free, they are far more likely to come back - and also spread the good word about your business!
Constantly Improve with Data From Shopify Reports
Half the battle of increasing your sales is figuring out what works, and changing what doesn't. But, finding the right statistics is harder than it seems.
Shopify gives you ready access to KPIs that are specifically related to your online store.
This includes:
Sales by month or hour

Sales by traffic referrer source

Sales by channel

Sales by Point of Sale location

Payments by method

Visitors by referrer, device, location

And much, much more
Armed with his plethora of knowledge, you can alter your tactics, products and marketing to reflect what you KNOW works.
No guess work, just hard facts that you can use to increase your sales.
We're all hungry for more sales - and the bigger the better. Question is, are you hungry enough to step out of your comfort zone and try something new? Are you ravenous for success and increasing sales figures?
If you are, then Shopify is your ticket to the big leagues of your industry.
Want to learn more about how Shopify can help your business to succeed? If so, explore this helpful article: How to Integrate HubSpot with Shopify to get Powerful eCommerce.


Or, have a chat to one of our friendly Shopify experts here at The Kingdom. We're Shopify Partners, so we can give you a good insight into how to get it working for your business.