The HubnSpoke team of Adam Steinhardt and Zaahn Johnson are back once again to continue their mission to drill down deep into the features of HubSpot and begin to address some of those under-utilised and misunderstood aspects of HubSpot, a powerful cloud-based sales and marketing platform.
HubSpot's diverse set of software tools can mean that even the most experienced HubSpotter can at times feel overwhelmed. Recent tools revealed as part of Inbound 2016 have added even more power across the sales, marketing and CRM tools, allowing you to maximise the effectiveness of inbound methodology in new and dynamic ways.
CEO Adam Steinhardt absolutely loves the powerful analytics features in HubSpot and looks this week at how to get the most out of the Lead Scoring tool:

Adding Powerful Context to Your Contact Database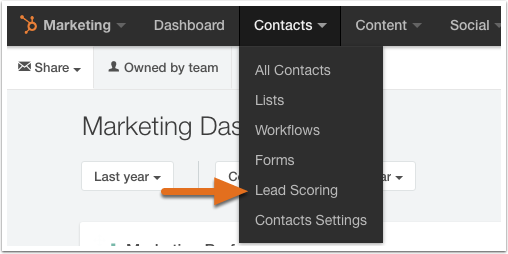 Lead Scoring is one of the many powerful HubSpot features that appear simple, but unlocking its real analytical depth isn't as easy. Lead scoring is a feature available to HubSpot Professional and HubSpot Enterprise users only, but it is well worth the investment.

Effective lead scoring is about weighing up the different transactions taking place when people visit your website and goes to the core of understanding HubSpot's marketing benefits - understanding what your contacts are attracted to online.

You can access Lead scoring from the 'Contacts' menu. Perhaps the most important point, to begin with, is that lead scoring can only begin to work for your website and contact database when you physically assign value to the actions that visitors take on your website.

How to Assign Scoring

Scoring occurs when you assign tracking rules for people who are visiting your website. When setting up lead scoring, you will want to consider first which actions a user can take on your site that is of value to your business. You can only add positive attributes if you like, but including negative attributes and tracking actions that also show disinterest or a loss of interest can be just as important to understand your contacts.

In Episode 17 of HubnSpoke, we spoke about Lifecycle Stages and understanding that one of the best features of HubSpot is in matching the Buyers' Journey with the Lifecycle Stages so you can determine when to engage your contacts, and how to be effective when you're doing so using the Inbound Methodology. Lead scoring is a crucial tool for you to correctly rank where visitors to your website are in their Lifecycle Stages and then initiate your automated workflows to capitalise on the opportunity.

You can set a score for basically any activity. Think about how many points you'd like to give for signing up for your mailing list. What about opening an email? Reading a blog? Or downloading an eBook? Once you have set up your lead score, you can begin to generate smart lists which will allow you to see which of your contacts is transitioning through the Lifecycle Stages, and most crucially, when they have scored high enough to become a Marketing Qualified Lead.

Is Lead Scoring B2B or B2C?

It's a great question, but it doesn't really matter whether you use lead scoring for either or both. It's effective at scoring for whatever you think is relevant, and so it can be set up for both uses.
How to Use Lead Scoring Tricks and Tips

Here are a few of The Kingdom's tricks and tips for getting the most out of your lead scoring:
Make sure you include a negative weighting for people who 'Unsubscribe' from your mailing list. Your content must not be tickling their sales fancy.




Set up automated emails to your internal sales team based upon lead scoring so as soon as someone becomes an MQL, they can begin to see what the contact has been interested in for when they get in touch.




Utilise lead scoring in conjunction with segmented lists. Not only can you begin to email them, but you can also use them to execute Audience Remarketing on Facebook.
HubSpot Enterprise also includes a Predictive Lead Scoring feature (unfortunately it is not available for Professional or Free users of HubSpot). Predictive Lead Scoring takes your database and looks at the steps your existing customers have taken along their journey, and begins to compare them with your contacts so you can identify who is following the same pattern and is on their way to becoming a customer.

This works best when you have gathered around 10,000 contacts and they're all quite tidy. It's important because not only does it help you identify future customers as they come through their Lifecycle Stages, but it also allows you to improve how you set up your Manual Lead Scoring properties.


A Content Christmas Present From The Kingdom!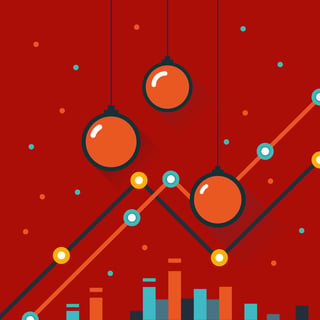 Just when you thought it was gone - BOOM - we bring back Workflow Of The Week! And this is a really thoughtful suggestion because Christmas is a time for giving...

Imagine a prospect that is totally disengaged (probably because of your cheesy sales pitch). It's time to transform their Grinch-like ways with a bundle of delight delivered right to their inbox!

Find your 3 best performing, most amazing pieces of content ever. Bundle them together and send them an email where they can download the best-of-the-best you have to offer for FREE! Just offer them the lot! If they go for it, you've got re-engagement. Which then re-actives lead scoring... it all comes full circle!

Want to learn even more about how to maximise your HubSpot experience? Discover more here.