HubnSpoke team of Adam Steinhardt and Zaahn Johnson embark on a new mission in this edition, to drill down deep into the features of HubSpot and begin to address some of those under-utilised and misunderstood aspects of HubSpot, a powerful cloud-based sales and marketing platform.
HubSpot's diverse set of software tools can mean that even the most experienced Hubspotter can at times feel overwhelmed. Recent tools revealed as part of Inbound 2016 have added even more power across the sales, marketing and CRM, allowing you to maximise the effectiveness of inbound methodology in new and dynamic ways.
Are you getting the most out of the full breadth of HubSpot features? We begin our examination with a common confusion amongst Hubspotters in the marketing and sales funnel:

A Closer Look At The Lifecycle Stages Tool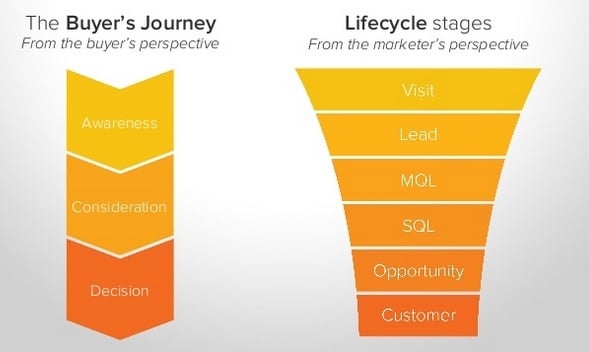 This is both an underrated and misunderstood feature of HubSpot, discoverable in both the Sales and Marketing dashboards in Contact Properties. It is also one of the most important features, as it really is the driver of HubSpot's true power.
Unsure why? Let us explain.
At its core, HubSpot is about creating websites that generate leads for your business. Using the inbound methodology, people will discover your website, learn about your business, begin to trust you as a source of information and then become a lead for you to do business with.
There are two sorts of leads in the HubSpot sales funnel: Sales Qualified Leads (SQL) and Marketing Qualified Leads (MQL). SQL are those entered into the system by your sales staff. They have done the work, they have created the interest and will hopefully be able to nurture this lead into a customer through their direct contact with them.
Look back 25 years ago, and almost 100% of your business leads would have been SQL. But now we have data demonstrating that nearly 70% of consumers will have done their own online research before a salesperson even has the chance to speak with them. The Internet has changed the game and your website is now your biggest marketing asset for generating leads, and moving them along the funnel to become MQL your sales staff will follow up.
Context is what helps make the inbound content you provide on your website so powerful, and the Lifecycle Stages tool is the ultimate context tool responsible for adding further context to the Buyers Journey of the contacts you're tracking. It's then up to you to provide the content that can help them transition from a lead into a MQL and SQL and then ultimately, into an opportunity.




How To Move People Through The Lifecycle Stages

The stage movement process is all about strategy, understanding where they are in the process and what brings them further along the sales funnel. This is available to anyone utilising HubSpot Professional, HubSpot Enterprise, and even the Free HubSpot CRM Let's have another look at that funnel now:
To explain how the Marketing and Sales Funnel works effectively, it's important to be able to identify contacts who are at each stage of the funnel correctly. A subcriber to your mailing list, as an example, is just a low level lead who has expressed the simplest interest in knowing more about your business. They only become a bonafield lead as they show a further interest in your content; maybe they have downloaded an eBook or entered a competition. The more they engage with your content, the further down the funnel they move towards becoming an MQL. And as Hubspotters, we know that this movement is a truly golden moment to watch.

So how do they become SQL? Well by definition an SQL is a lead who your sales team has spoken with directly. Most likely you've introduced yourself over email, and begun to further the conversation by asking if there's any further questions your lead has or if you can be of any help. It's a manual chain which your sales team is directly responsible for advancing.
Alleviating CRM Confusion
A lot of Hubspotters are eager to unlock the power of the HubSpot CRM and start to really engage with their customers. One of the biggest pitfalls however, is adding leads to your CRM before they are ready to be added.

This is where the Opportunities part of the sales funnel is key. The moment when an SQL is identified by our sales team as an Opportunity is exactly the stage when you should be putting them into your CRM. There is no point clogging your CRM with mislabeled contacts still caught at earlier points of their Lifecycle Stage.
But Why Wait Until A SQL Becomes An Opportunity?
The reason is very simple: you should wait so that you can extract the correct statistics about your Lifecycle Stages funnel to identify accurately how it is working for your business.

For example, if you're getting lots of people in at the Opportunity stage of the cycle, but you're not getting conversions for there, then your issue becomes obvious - you need to be training your sales staff to close the deal!
From this perspective, being able to easily identify how your contacts transition between each Lifecycle Stage, moving through the sales funnel along their Buyers Journey, is essentially your ROI for HubSpot. Your business has invested in all of the cabailities of the platform, and when used correctly the Lifecycle Stages tool really is the ultimate data flow for your business.
Discover Even More Goal-Kicking Features!
Social Media Expert, Zaahn Johnson has taken a fancy to Progressive Polling in the Forms tool in HubSpot, and has a special trick for discovering your contacts on Twitter to share! Meanwhile, Managing Director, Adam Steinhardt is all about making the most of the getting to know your website visitors even better by optimising the multiple blog capabilities in HubSpot.
Want to learn even more about how to maximise your HubSpot experience? Discover more here.