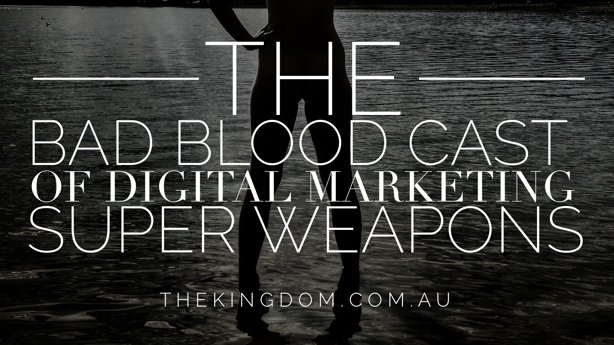 Taylor Swift has reached rapid worldwide attention with the recent launch of her incredible Bad Blood video. It features a cast of Hollywood megastars, all with unique superpowers. It's Tarantino meets The Matrix. Explosive stuff.
We were inspired to think of the digital marketing superstars, and here's what we discovered.
Facebook Pixel Tracking
What is it? Pixel Tracking takes the audience that comes from those people that have visited your website and allows you to remarket to them in a super powerful way to use Facebook Pages for business.


LinkedIn promoted posts
LinkedIn promoted post allow you to drill down on the demographic and, more importantly, the occupation of your target market. If you want to put yourself in front of CEOs, this is a fine tool.


Google + is a superhero in disguise.
Google + is a key part of the Android ecosystem, and an interesting app on iOS, plus desktop. Are you on it? Are you being found?
Google + pages define how you are promoted and seen on the Google results page. Plus for digital marketing, what you post gets to your audience. Google + is not restricted, like Facebook.


Pinterest rich pins
Pinterest is growing fast because it is popular and engaging consumers the life of a pin is longer than any other social media contribution.
Pinterest Rich Pins allow you to link your e-commerce websites, so you have a permanent web button that allows people to click through to your site. Gather up your photos and make interesting boards and you will see web traffic grow.
Discover 8 Reasons to Love Pinterest and Pin It's Like it's Hot
HubSpot™ Lead Scoring
HubSpot Lead Scoring is a very powerful tool. Everyone that comes to your website is allocated points. HubSpot™ Lead Scoring allows you to focus on the customers that are interested and engaged in your content. Sure beats wasting time cold calling people who are not in the market for your product or have no interest in your buying cycle. HubSpot™ is an economic investment in powerful marketing if you are seeking real results.
Discover more about HubSpot here.
Sidekick by HubSpot™
Sidekick is possibly the most remarkable tool that any salesperson can use. It allows people to see when an email is being opened and when embedded web site links are being clicked.

When used in conjunction with the free HubSpot™ CRM it is a powerful sales weapon. When combined with the HubSpot™ marketing platform it is the ultimate sales and marketing tool for your business.

Writtent.com
Are you struggling for blog ideas? Are you short on time and just don't seem to get time to write up your great ideas? Then simply submit your idea into writtent.com and writtent.com will discover writers who will write your story for you.

Writtent.com allows you to have a new blog boosting your reach on the Internet without having to spend huge amount of time nor money.


Grammarly
Talk about one of the coolest digital tools available for your day to day operations. Grammarly is explosive. It won't blow up, but it is an outstanding plug-in that checks your grammar and spelling as you type.

Grammarly breathes life into the dictation function on your phone. Take dictation, voice to text, and then quickly tidy up your grammar or publication. It saves hours of time and investment.