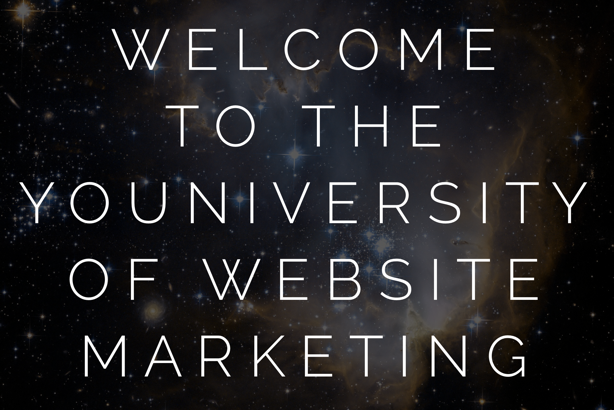 It's the University of You. "You" has now become the most important word for every business website. Are you talking about how you help the customer or are you just talking about how great you are?
So what inspired this massive shift from us to you? The internet. Since everyone gained access to the internet, how we play the digital marketing game has been completely and permanently changed.
In the old days, media agencies were dictating what we wanted to read or see.
Editors sitting in their large, everything-is-made-out-of-leather offices decided what stories and ads were placed in front of us. The traditional means of advertising still exist, but their place has changed. TV, Radio and Press have just a short time to their story, so it's in your face and interruptive, hoping you will remember it.
But now, with the power of the search engines and the intimacy of handheld devices, customers have the freedom to pick and choose - and this means that instead of being disruptive in our messages we now have to be attractive in our content to reach our target audiences.
The best way to be attractive to somebody is to talk about them.
We have to relate to the customer. Hence "You" is a very powerful world. It's all about You. Be honest. Most businesses on their website talk about how great their product or services are.
For many, the story is on the business - how astonishing it is, how many awards it has won, why the business is wondrous. It's old-school selling. Shine the Bat Signal, come and get me, customer!
But the world is more sophisticated now.
In reality, what we all should be focusing on is how your business helps the customer. That is your story.
By telling the consumer how you help them, you begin to build a trusting and respectful relationship - this gets you trusted, and being trusted gets you results.
By focusing on ways to help the customer and their challenge, you can start to make your business attractive. This is the power of content marketing.
Content marketing provides the power that makes the customer the most important person in the world, which is what they want.
How we help you. Ways you can benefit. What is in it for You.
Educating the consumer as to how you can help them is a fantastic way to get noticed. This is because you're answering the audiences' questions, instead of bombarding them with facts and stats that make you look great. This is using the full power of inbound marketing to get you sales.
Get automated
Combine these tactics with an automated marketing platform like HubSpot, and you have the tools to graduate from the Youniversity of You.
But is your website ready? Is it actually providing value to your customer? Why not invest in a free 15 minute Inbound Marketing Assessment from The Kingdom to get your website talking in the language the customer loves.