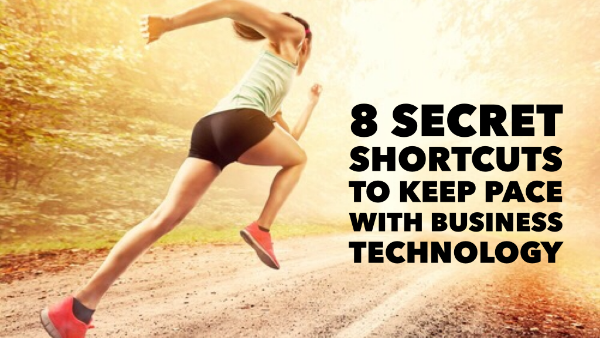 Are you under gunned in IT, struggling to keep up? It's getting even more intense when you consider the IT tentacles are spreading into sales and marketing with the explosion of cloud software.
Technology has leaped out of the server room and now is firmly at the head of the boardroom table influencing all business decisions.
So how do you keep up with information technology
Unless you are 60 + then it's going to be pretty hard to avoid the Tech revolution. It is the Tsunami that just keeps on coming.

Here are eight power tips that we use daily to stay on top of the digital marketing revolution.
The Podcast
In the car/bus/train while commuting.The podcast is a fantastic way to learn, and it's downright interesting. Pick a tech topic and jump right in. Served up to your handheld device and a great education tool. Recommendation Mad Marketing - Marcus Sheridan.
Read the book, "How Google Works"
It's a great read. Easy to digest and mentally stimulating for business people, and it has a tech edge to help you understand the power of the industry.
Take the free HubSpot Inbound Marketing Accreditation
This one is out of left field. HubSpot are training masters, and the inbound accreditation is simple, outstanding and available to all. It's a refreshing way to look at digital marketing. If you need some help to get started, speak to The Kingdom team. We will be delighted to assist.
Surf the App Store
Download a bunch of free apps you have never used and play. By playing with free apps for no reason, you will train your brain to be curious and more comfortable with Apps. We bet you find an app that you love. Recommendation - Check out Word Swag, it's gold.
Sign up to Gizmodo, Mashable, tech sites that keep you up to date.
Why not leave the death, boring politics, same old sports-star-in-trouble news and read what the geeks love. There is always a curious article that is of interest. You might discover it is actually fun being a geek.
Come along to our free seminars
We have them monthly, and they are always really interesting. We rate 4.8/5 and give away loads of free information that can help your business.
Sign up for the HubSpot demo software
HubSpot is part of a category that is taking the world by storm. Automated Marketing Software is a powerful way to make your website generate leads. The HubSpot demo is free, and the HubSpot CRM is also free. It can't hurt to give it a try.
Take the lead from the USA - it's way ahead of Australia
Subscribe to Social Media Examiner, Michael Stelzner has over 400,000 subscribers to his daily newsletter, with some of the best in the business contributing on a daily basis.
Sure, It can be challenging, but perhaps the best part about all of these tips is that they are all brain stimulating and interesting, even just for a short time.
Better still, they get you better prepared and more confident for the digital evolution of the future.
And one last thing. Get Google Apps for Business working for you. Google Apps for business increase productivity and get your team firing. Cloud based apps make a huge difference and the Google Apps for Business suite, is a great first step to fire up your marketing.