Mill for Business We're now two weeks into our Facebook Live program and it's been a blast, but what have we learned during this time?
Well, we quickly discovered that you can't wait for the 'perfect time' to get your business involved with video. You just need to do it.
Waiting for the best time to do video for your business has passed - it's right now!

Video has become both expected and required as a part of the way we work, live and play. Facebook Live is now a huge part of the Facebook platform.
We are not scared of change, so we jumped right in the deep end.
Did we sink or swim? Let's find out!
What Even is Facebook Live?
Facebook has defined it as:
"Facebook Live - A fun, powerful way to connect with your followers and create new ones along the way."
It's more than that, though. Facebook Live is an incredibly powerful way to drive your business forward on the biggest platform in social media and marketing today.
We have been producing The Kingdom Live show and posting it directly on Facebook Live each day at 3 pm for two weeks, and it has certainly been an intriguing experience.

So, what can you learn from our success and failings?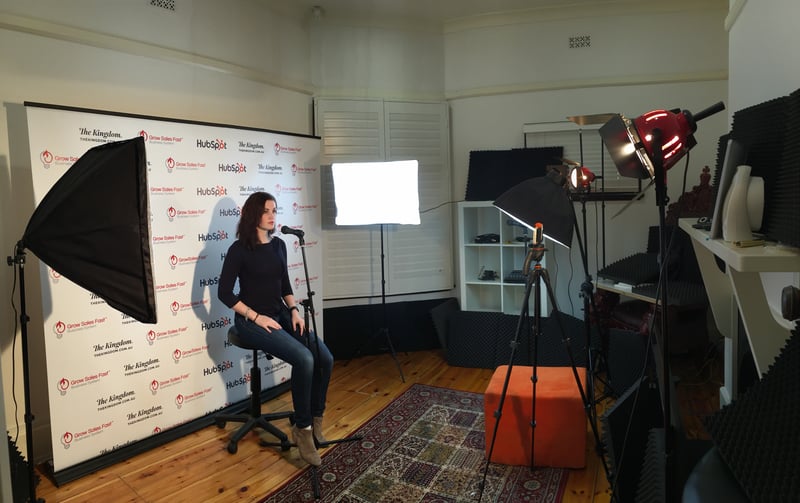 Perfection is Not Possible
Is it better to be imperfect and do, than strive for perfection and not do? Absolutely.
Don't worry about perfection. It's nearly impossible with live video.
The good news is that nobody is perfect, and nothing could be more genuine than producing a video for your audience with no edits or post-production. You are sharing with them the 'real you'.

The expectation of video production quality has fallen, as we are all now video producers. We use our mobile phones to produce videos on a daily basis from some of the most unusual places.
While all of this is well and good, you still want to make sure your production is enjoyable. Here are a few key investments that we recommend you make to improve your production.
Our Sound Sucks – It's Not There Yet
We started our Facebook Live journey by literally grabbing a phone and going for it. Do it today, seriously.
The sound was poor, and that's not okay - even though we only had one viewer (oops - sorry kind person). We immediately learned that to take this forward, our sound had to dramatically improve.

We jumped on Google and found some Eggshell sound tiles. They are all over the room now and are surprisingly effective. All up this cost us about $150, but it was worth every cent.

We tried to run the bi-directional mic through the lightning port on an iPhone, but that was ordinary.

We ended up deciding to stop trying to bootstrap something as important as sound invested in dual wireless lapel mics.
These are coming next week, so stay tuned for some super crisp audio.
The Thirst for Lights
We love the lights, but the shadows were annoying so we didn't use all five of our stage lights on the set at once.

We placed them front on, on top and on the side, which was much better, getting rid of those pesky shadows.


Engagement – We Love Our Fans
It's hard to describe how excited we were when we got one view. Our first view was thrilling. Now we are up to 20 a show. Hardly remarkable, but remember that you have to get past one to get to 20, to get to 100, to get to 1000, to get to 1 million.

Let's not forget; Rome wasn't built in a day, and Kim Kardashian also started at one view per day once upon a time.
Go Long for Better Reach
Facebook's organic reach is at its highest when you are broadcasting live video. And, the longer you broadcast, the more likely it is that people are going to see your production.
We are averaging 8-20 minutes a show. At this stage, the results are varied from day-to-day. But, Facebook says that at least three minutes is recommended to give people a chance to see it.
The probability of making the online sale is 64% higher when your users watch video(s). (Mill for Business)
Why All the Fuss for 20 Viewers?
Content for repurposing is a great benefit of any video. Facebook Live let's us do this faster than just about any other platform.

We take the Facebook Live videos and embed them straight into our blog. We then craft a short, three paragraph story to go with it, chock full of Google keyword goodness.

From there we also download the MP3 of the soundtrack and send it off to Casting Words, who transcribe it. The first ones aren't finished yet, but when they come back, they will form the basis of one or two blogs each as well as some eBooks.

We plan to post these on our website and deliver them in exchange for email list growth.
We're also in the process of uploading our Facebook Live videos to YouTube, using the descriptions from our blog.
Many people forget that YouTube is the second most popular search engine on the planet.
We also take 4-6 tweets from the blogs and push them out regularly.
All of this only takes about an hour. Of course, we have a huge efficiency advantage as we are using the HubSpot automated sales and marketing publishing software.

This is one of the great hidden benefits of HubSpot. It's so easy to get stuff done – it removes everything that gets in the way of doing what's important. With loads of inbound marketing experts in the building, we have been able to already generate leads.

We extend the reach of our content using Uberflip. The Uberflip software tool is remarkable as it allows us to create channels of web content and presents it in an easy to watch format. We have an entire channel dedicated to our Facebook Live productions.
Facebook Ad Engine can Fire-Up the Likes
If a Facebook Live video gets a lot of love, we can promote it using the Facebook Ads Engine. The Ads Engine is what gives Facebook Live the advantage over other video streaming programs like Periscope, Blab, and Meerkat.
Facebook allows you to use the powerful Ads Engine to promote your production to very specific audiences or, if you choose, the world. The Facebook ecosystem gives remarkable reproduction power.
The great thing about all this is that it does not take much time at all.
Learn more about Facebook ads.
So What Are Some Tips Based on What We Have Learned?
Don't Fear Where the Conversation Goes
We plan our presentations, but every single time we get on camera, we manage to end up in a different place. That's the thrill of going live!

By being live, you get an adrenalin kick which makes you think faster on your feet.
Lighting Counts
We can't get enough of lighting, but outside is great too. Natural light can work well. We have invested in lights in our mini studio, and that makes it extra fun.
Remove Barriers and Impediments
Just get started. You will be lucky to get more than three people watching your first video, but don't be discouraged. Just get on with it and learn as you go.
If you are wondering what content to be delivering, just go with answering the most asked questions by your customers.
Do, or do not. There is no try
Star Wars - Yoda.
Make Sure You Add Your Content to Your Blog
There is no perfect time to go live, so make sure you get the content on a blog, for future longevity. Google loves it when you add regular content to your website. Plus, it's there for your customers to enjoy in the future.
Relax and Don't Worry Too Much About Brand Control
Have fun with your brand, it will seem more human and engaging with the innocence of just letting things happen. People do business with people; it's P2P first and B2B, B2C second.
Try for Exclusive Access
Exclusive access is intriguing. It might be a product launch, it could be a backstage behind the scenes look. Exclusive access makes people feel special.
People love it when they can see things that are not commonly available.
Be Prepared to Fail and Learn
Success is a process that is built, not obtained. Even the greatest go through a learning process.
Does Live Video Create Sales and Leads?
Yep, they sure do, but I've got to run. I have a sales appointment in 10 mins, thanks to one of our videos. That's the power of Facebook Live.
Tune into The Kingdom Live, every weekday at 3pm, on our Facebook Page.