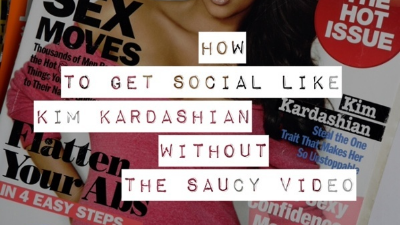 Kim Kardashian has millions of followers on Instagram and Twitter. Her follower count is so high, and it seems unattainable. But let's not forget that Kimmy K went through 1 to get to 10, to get to 100, to get to 1000, before landing up at the astronomical figures she now enjoys.
Our digital marketing experts are asked on a daily basis the best way to use social media, and get follower counts up. Here are some tips...
Get Started
We recommend to just to get started. Don't worry about the low follower counts that you have at the beginning of the process. Remember Kim Kardashian also had one Twitter follower once upon a time.
To get to the moon, you have to launch your rocket.
But, there are ways that you can be inspired by her social media popularity, without using a viral video tape to get there.
Follow on Twitter
With Twitter, spend some time following all of the people that appeal to you. Go for 2000.
It's an easy process, simply set yourself up in front of some easy-watching television and follow people. Twitter etiquette is such that people follow you back. Give it 3-4 hours and you will have got yourself some love. Chances are very high that you will forget about the TV and start enjoying the incredible content of Twitter.
Be Interesting
Tweet about lots of things that are not about you; this will mean that you become interesting to other people. This has the great impact of getting you on people's lists. Make yourself valuable to the Twittersphere and the follows will come.
Instagram others
To gain traction on Instagram, simply start including businesses and places that have established keywords. Tag in your friends and make your content interesting.
Don't worry about posting selfies. It is not about you; it's about being interesting to other people. Kim Kardashian has a huge social following. This is because she is interesting to millions of people.
Be professional on LinkedIn
LinkedIn this is a platform that is powerful for business, so rather than using it as a tool talking about yourself all the time, use it to help educate people. Make sure your profile is comprehensive and in your profile you are talking about the ways you help others.
Use your profile to take the opportunity to refer people back to your website. The engagement you get from this will pay dividends. Once again if you are interesting then you will gain followers.
Worth the effort?
So, in summary, is not impossible to be like KimK, it just takes a bit of an effort. Is the effort worth it?
Getting your follower count up is really important. The greater you ability to push communication to the world, particularly if you are pushing your website links with that communication, means the greater web traffic you have.
Using inbound marketing and programs like HubSpot, you can convert that web traffic to leads and deals. You need social media to get your message out there.
So be like Kim. Take to social media with a passion, get your channels up and running and begin the journey of 1 to 1,000,000 today.
Even Kim started at 1.