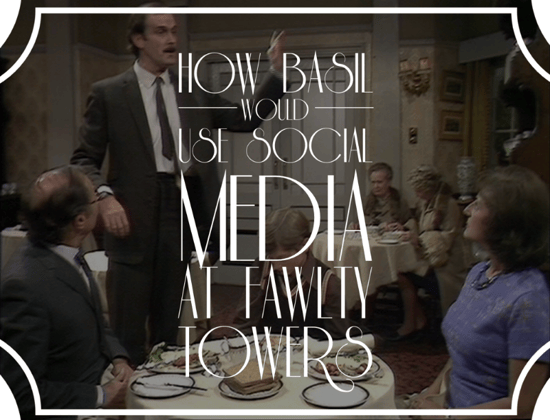 I once read an article about a stressed restauranter legitimately complaining about the impact mobile phones had on the behaviour of the customers.
As a lover of Fawlty Towers, I can just imagine how Basil Fawlty would have (not) coped with the modern day digital marketing revolution. Here are 10 great ideas that Basil would never have thought of.
If Fawlty Towers was around today, Basil would have complained about people playing with their phones, not reading the menu, asking staff to take pictures of the patrons before, during and after the meal, as well as patrons photographing the food and posing for selfies. Not to mention the time taken to check in, tweet, update etc. The social act of dining is being interrupted by social media
Dining is being slowed down, and it's much harder for restaurants to please, as complaints go up on social media, making it harder for restaurants to survive.
Poor Basil would have collapsed, and no doubt Manuel would have copped a finger in the eye or a saucepan over the head. Poor chap.
Chances are that, like Basil, the struggling foodie was right about the unfair impact on his business. Which leads me to the question many businesses are challenged by. Do you fight the social revolution or embrace it?
Like all revolutions, life is never the same during and after the uprising. So, here are some tips to embrace digital marketing and get it working for you, even if you want to cling to the past and run with a no riff-raff policy, as Basil did on Gourmet Night.
10 Things Basil Would Have Scoffed At:
These tips are for any people in the restaurant game. No doubt Basil, a beast of the 70's, would have not done any of them, but there are lessons to be learned for all of us.
Get a Twitter handle, Instagram account and hashtag, then tell your customers you have one. It's the first step to having them use it to promote you.


Every time they ask your staff to take a selfie, have your staff ask them to include your hashtags and Twitter ID.


Get some funky signs made up, on brand, and give them to your customers to take shots of food and themselves with it.


Set up a video backdrop with lighting with your brand on it and what you are good at, encourage your customers to shoot video and photographs there. It's all going on Facebook, Instagram, Twitter, YouTube etc. and it's going to go virally to their friends as recommendations.


Get placemats and table tops made up with your hashtags and ID's, so if someone loves your work they can tell the world for you.


Try innovative things for us users to tag. I saw this great coffee idea below in Sydney, Tweeted it, but sadly they were not on social, so missed out on free advertising as I sent it to our followers.


Have the customers fill out a quick survey - make it small, business card size, but then you can photograph it and put it on your own social channels.


Create goals for your social advertising.


Train your staff to be amazing. It will be noticed and promoted.


Get inbound marketing working for you with a content rich website.
There are so many ways you can harness the power of your customers and their social networks. If you are struggling, speak to our digital marketing experts. We can help you create a fantastic digital marketing environment. Our social media experts can get you working with these, and many other tips, to help you embrace and dominate the social marketing world.
We drive fast sales growth for your business by implementing effective digital and inbound marketing solutions.
If you are interested in discovering the power of inbound marketing, speak to our team today. As Australia's leading HubSpot Certified Partner, we can get leads on your keywords fast.