The Internet and social media are visual by nature. Social Media Examiner has the stats to prove it, too.
Did you know that 87% of Facebook posts with images get some sort of engagement?
Eighty-seven percent! That's astounding. Twitter posts with a photo get retweeted 35% more often. Instagram is purely images and video, but what about Pinterest and Google+? A user's feed is about 80% images.
From a social marketing perspective, it's important to pay attention to the images you're posting. With images grabbing so much more attention than text, you have to make sure you're sharing out the right kinds of things.
How do you know what the "right kinds of things" are? It's a pretty vague term and full of subjective judgements. Here are some tried and true guidelines that the social media experts at The Kingdom put together to help you improve your postings with attention-grabbing images.
Quality over Quantity
Let's make the assumption that anyone reading a blog about tips to improve your images on social media owns a smartphone. The iPhone has a great camera, which has led to it being one of the most popular sources of Flickr photos. Some Android models have even better cameras.
There's no excuse to take low-quality photos anymore.
So here are five tips to take better quality photos with your phone:
1. Take it in landscape mode
Landscape mode allows you to have a better perspective about how the subjects in your photo fit into the frame. Plus, you're less likely to zoom in on the subject. This allows you more space to crop the picture to your liking.
2. Take the photo on the same level as your subject
Adults tend to hold their phone at about chest height. Subjects like children, animals and your business' products, though, will show better when you take the photos with its position in mind. You don't have to crouch down to take a photo, either. You can use the external buttons on your phone (volume buttons for iPhone) to take a one-handed photo.
3. Use the grid
Do you want to get a picture of that building? What about the horizon? While you can adjust a photo after it's taken by cropping it to align along one plane, it's difficult to edit and line up a photo of a building (or other rectangle). In iPhone, go to Settings ➔ Photos & Camera ➔ Grid and toggle it on. Now you case use the horizontal and vertical guides to adjust your phone and capture your subject head-on.
4. Light it up
The improvements to smartphone's flashes are no joke. Skin tones and red eye are much reduced. However, a decent flash on your camera phone is no excuse for bad lighting. If you must take a photo in low light, use the flash, fine. But take a look at the photo before you post it to social media – often, these photos come out grainy and flat. You can try taking a different kind of photo, too. A silhouette of a woman in front of a sunset is a much more powerful image than a grainy and dim photo of her smiling in front of the sunset.
5. Ask a stranger
The front-facing camera on your phone has a different lens than the back-facing camera, and it's usually worse quality. To avoid this issue, you can hold the phone out with the back towards you and blindly take a photo, or you can ask a stranger. Most people will be happy to help out.
Use Your Words
Our staff at The Kingdom have written about the tools we use to add words to photos, but what's the reasoning behind it? Well, for one, it associates your offer with that image. People's eyes are drawn to images, which is why they perform so much better on social media. By overlaying your content offers on top of the image, your content offer is more likely to be seen and, therefore, interacted with.
Text overlays are not the only way words are important to images. Search engines like Google use the image's file name and the alt tags associated with that image to index the Internet. An image with a file title /image/img036.jpg tells the search engine nothing about the photo. A filename like /image/socialmediatips/googleplus gives all sorts of information about the picture.
For social media, descriptions are everything.
When a user wants to find something, they'll use the social media's search tool to find it. Take a look at Pinterest.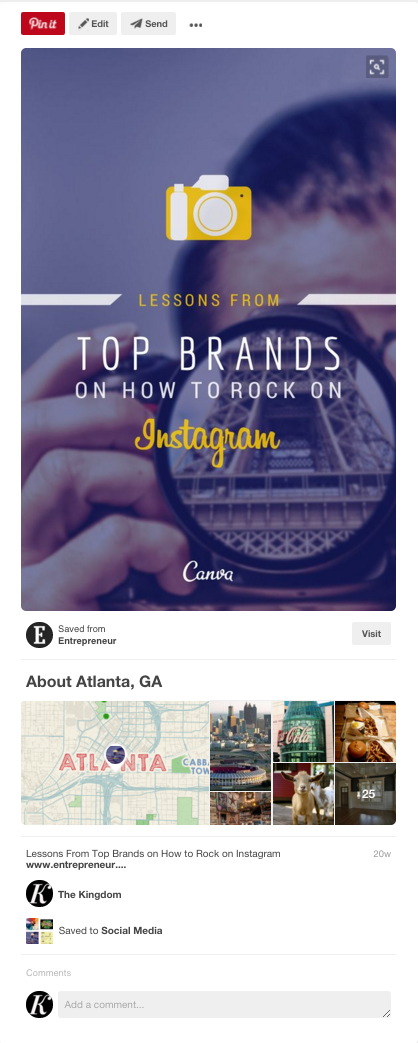 This image does a lot of things right – there words over the image and the original brand's name. But where is the description? What about the actual title of the pin? How is Pinterest supposed to associate this guide with social media?
In pinning this to one of our boards, we edited the description. Now Pinterest knows this is pin is relevant to many more searches.

Keyword-rich descriptions aren't just limited to Pinterest, either. Hashtags were invented for this sort of user-generated indexing. Twitter, Google+, and Facebook all allow users to include hashtags at their own discretion. This, in turn, allows others to use the platform's search and locate relevant posts.
Image is Everything
What about when you can't just take a picture with your phone, though?
The easiest way to find great quality images is with a stock image service like Shutterstock. For casual and high-volume users, these are great services. They allow you to browse millions of high-quality photos that match your search terms.
"But I don't want to pay", you say. That's fine, too. Try any of these free stock photo services. These libraries tend to offer more modern images, but don't carry many vector graphics or .pngs. Instead, you'll find a large assortment of beautiful photos that can be used under common licensing.
Lastly, try Google Images search tools. Enter your search terms on images.google.com. Take a look at the bar that displays just above the results and click "Search tools." The dropdown "Usage rights" allows you to filter out all the images that you can't use. You'll notice that, generally, the results' image quality goes way down. That's because most professional photographers (and every stock photo service) want their images found on the Internet, but do not want you reusing them without their permission.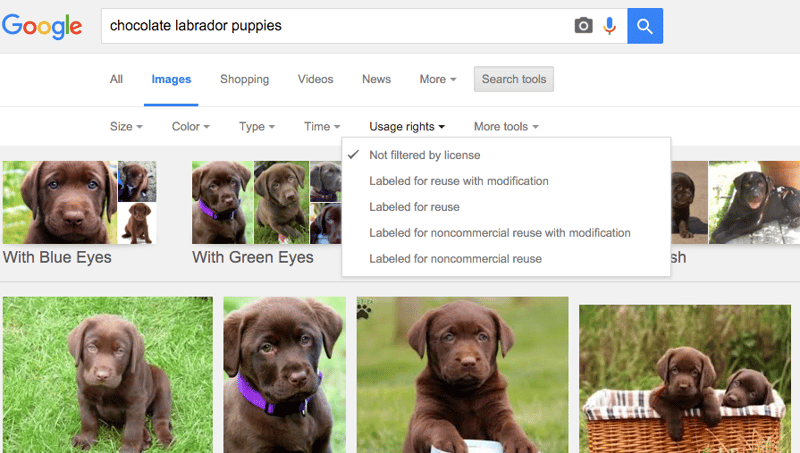 Mirror Images
What about reposting the same image over and over again?
You're probably looking for a simple "Yes" or "No" answer, but I'm afraid it's not that easy. There are a few best practices that you can follow, though.
If you associate an image with one of your offers, only associate it with that offer. Don't use the woman silhouetted against the sunset image for your blog on success and also your product page. Mixing offers like this is confusing for your follower. They might pass over one offer because they believe they've already read it. Worse yet, they might feel tricked if they click on the wrong offer.
One offer can have several images associated with it. It's worth reiterating that the more relevant social media activity you perform, the more traffic you'll bring back to your website. We will absolutely repost what we call "evergreen" content precisely because it is not time bound. Different images will appeal to different users, so go ahead and create multiple, relevant images.
That said, space it out. Your fans and followers are only likely to see only a small percentage of posts: only about 10% of your Facebook, for example, are seen on a customer's newsfeed. Still, you shouldn't spam your social media channels with the same images over a short time frame.
It's important to make sure your fans' newsfeed aren't just the same few images from you over and over again.
---
So there you have it. Our top tips for using images effectively on social media. One last piece of advice: make sure the photos you're choosing are on brand with your product. If your industrial company is sharing out pictures of puppies and kittens, or your accounting software company features hipster models, you many not be broadcasting out a message that appeals to your customers.
Interested in other tips to get your social media strategy firing? Try reading this blog post on effective images to use on Instagram, or you can check out Adelaide social media expert, Zaahn Johnson's Zaahnzibar Social Oasis Blog roll here.