Global eCommerce markets generated over $22 trillion in sales in 2016. It has been predicted that, by 2020, the value will grow to over $27 trillion. Of those sales, more than $20 billion was attributed to Shopify, a platform dedicated to serving small to medium-sized business.

In September 2015, Amazon.com announced it would be closing its Amazon Webstore service for merchants, and had selected Shopify as the preferred migration provider. It is a highly respected platform, that provides feature-rich customisable store options, a broad range of integrations and exceptional customer service.
What are the features that make Shopify stand out above other eCommerce platforms?
Key Shopify Features:
Setting Up Shopify

Shopify is easy to set up and start to use.

Shopify is the world's leading Software as a Service commerce platform, used by over 100,000 active global retailers.

Shopify allows you to use your own domain name

Shopify includes an outstanding blogging system to create posts that can benefit your content marketing strategy.

Shopify constantly adds free new features and has over 1100 apps that will help you continue to sell and reach your market more effectively into the future.
Shopify's POS and Checkout System
Shopify can be your POS as well as your online store, with Shopify POS

Shopify provides clear and easy to understand eCommerce Analytics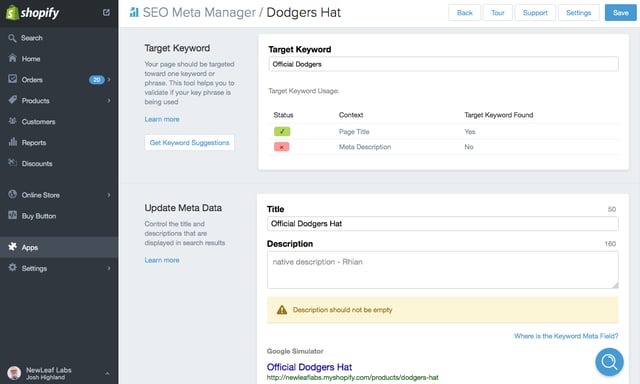 An example of Shopify's SEO Interface.
Shopify's SEO and Webmaster Tools
Shopify has excellent built-in SEO features

Shopify includes built in coupon codes for A/B Testing

Shopify hosts your site for you, on reliable servers with ever-evolving infrastructure to support your site.
Shopify's Inventory Tools

Shopify allows unlimited Stock-Keeping Units.

Shopify has fully PCI Level 1 Compliant checkout systems to keep you and your customers secure.

You can process purchases with your iPhone using Shopify Mobile

Shopify provides you with both video tutorials and 24/7 support to help grow your site.

There are over 100 professional themes to take advantage of, many of them free.

You can trail Shopify for 14 days for free to see if it can work for your business.

Shopify are very transparent with their pricing, fees and billing.

Shopify integrates with HubSpot, Amazon, Etsy and eBay, allowing you to operate all of your sales through a single dashboard touchpoint.
The retail world is in the midst of a technology revolution, the only limitation faced your eCommerce platform is your own creativity.
There has never been a better time to be a shopper, so set the bar high for your store and get your products out there!
If you are looking for an all-in-one eCommerce solution for your online store, and you are looking to grow and add products – and you have a little bit of technical know-how, then Shopify will be a great fit for you.
Want to learn more about how Shopify can benefit your business? If so, explore our HubShopper blog for more helpful tips and learn more about using Shopify.
Discover More:
Why You Need to Rescue Abandoned Carts
The Ultimate Shopify Checklist
eCommerce Trends That Will Make 2017 Your Best Year Ever