Giveaways are an often misused tool. Too frequently, these great opportunities to grow your retail business are dead before they even begin. With this step-by-step guide, you'll turbo-charge your giveaways to make sure they reach the most people and return the most value to your business.
Define your goal
The key to a good giveaway is having a clear goal to begin with - something that will help your business for the future such as:
Growing your email newsletter subscriptions

Increasing awareness of a new brand or product

Driving customers to your online store

Gathering valuable data from current and potential customers

Grow your social media followers

Reduce existing inventory
As part of defining your goal, make sure it is something that your can track and analyze at the end of the giveaway. Decide what you feel is most important and ensure that you have infrastructure in place to measure these analytics. Shopify offers a great set of tools which integrate with its platform, such as Rafflecopter, Promosimple or Gleam.
Choose a desirable prize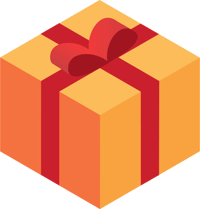 It is important to remember that a giveaway is a transaction with your customer. In order for a potential entrant to provide you valuable information, they will need to feel that the prize on offer makes the transaction worthwhile.
Make the prize relevant to your brand, such as your own products or services. No more free iPads…
Select the type of giveaway
Choosing a good prize can draw people to your competition, but the medium of delivery is just as important.
When determining how you will deliver your competition to the public, consider your target audience and how they engage with brands. Here are the three most common types of giveaway to consider:
Social Media Sweepstakes - Entrants usually have to like your page or an individual post, and share the contest details. The winner is drawn randomly.
Purchase Required Draw - Customers who purchase certain products are entered into a raffle-style draw, often to win a grand prize or multiple smaller prizes.
User-Generated Content Contest - Customers submit their own content, often a photo or video of themselves interacting with your product to win a prize. You choose the winner.
If you're searching for inspiration, Shopify provides this great list of competition ideas to work from.
Set it up (and check your Terms & Conditions)

Do yourself a favour when you go to setup your campaign and look across these excellent platforms which can help make your campaign simple to run:
ViralSweep - offers good options for growing your mailing list and social media
followers

Gleam - Excellent for retail website and social media competitions

Woobox - Offers a breadth of competition options
When you're organising an online giveaway, simplicity is key. This includes making sure that your contest is easy to enter, and not asking for too much information in exchange.
Another important aspect of setting up your competition is clearly defining its parameters including the timeframe and rules of entry. If you're looking to run a social media campaign, individual guidelines exist for Facebook, Twitter, Pinterest, and Instagram. Facebook, for example, are very specific with their terms. You can say 'like to win', but you cannot say 'share to win' or 'tag a friend to win' or create a campaign - read the terms & conditions thoroughly!

It is also worth ensuring that your competition is easy to find. Use your own site as a host rather than a third-party if possible, and ensure that you have also created keywords which make the competition easily searchable.


Running Your Online Contest
Marketing your giveaway is crucial to maximising your results. Tell your existing customers first through your email newsletter, social media accounts, and website.
If you have a marketing budget, hiring key influencers to share the contest information and promote your business may help. Alternatively, paid social posts provide a cost effective way of targeting your identified audience.
Be sure to maintain momentum for your competition as well. Don't fall into the trap of starting strong, then falling off after the first week. One strategy for doing this is to remind people of the limited time the giveaway is live.
Choose the Winner
You need to ensure that your winner is based upon the rules and regulations you've outlined. Then announce them publically via your social media, email, and on your website if applicable. This will help other customers associate a face with the campaign and help you build a following for any future competitions you hope to have.
Measure Your Outcomes, Improve & Repeat
Look at the success of your competition pragmatically – did I achieve the business goal set out? Where can we improve? Were there any obstacles that hindered success? What did we learn for next time?
Examine your metrics and reflect on how you can build or replicate the success of your competition in the future.
Want to discover more tips for successful eCommerce? If so, explore our HubShopper blog for more helpful tips and learn more about using HubSpot and Shopify together.
Discover More:
Why You Need to Rescue Abandoned Carts
5 Free Resources to Fire Up Your Sales Team
How to Get More Sales Conversions from Your Sales Leads