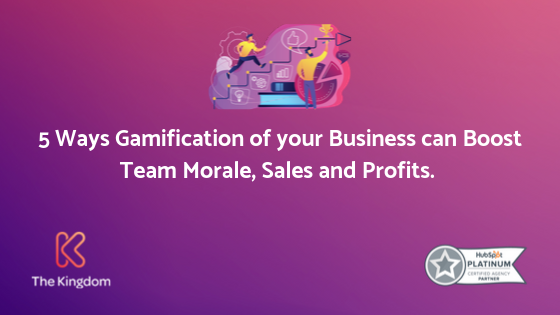 Isn't it about time your business made you wake up in the middle of the night more often?
Who wakes up in the middle of the night and checks how many web hits they're on for the day? I do. Sad. Or is it?
Humans are competitive. We learned it from running away from lions as part of our survival instincts.

Tap into the competitive DNA of your team.
The video game boom of the last 20 years has taught the world a few things. Mainly, that playing games is fun, and that being competitive is enjoyable. So, why not gamify your business?
So what is Gamification for Business?
Find the statistics that mean success for your business and make them fun. So, here are five tips to get gamification working for you.
1. Don't worry about the money.
Work on the things that get you success. As a former pole vaulter, it was scary looking at the bar 18ft in the air, so I didn't. I Just focussed on all the things that needed to be done to clear the bar. The clearance bit came as a result of high achievement of all of the small checkpoints along the runway.
2. Create a scoreboard.
A4 black and white prints, big numbers pinned up on a manual Pinterest board - a.k.a an old fashion pin board. We like to pin over our past records with our new and improved statistics just for kicks.
3. Celebrate the wins.
It was great to see HubSpot™ get to 15,000 customers this week. They did a great job celebrating it too - check out the video. But remember they, like you, had to go past 1 to get to 10, 100 to get to 1000 and 1000 to get to 10,000. Don't be scared to party if your email list makes it to 50!
4. Pick on things that you can track.
With HubSpot™, we can follow loads of metrics with the easy to use digital marketing mobile app. Daily web hits, sources, keywords in the top 3 on Google, top 10 keywords, monthly web hits, blog scoreboards.
5. Learn from your stats.
The best thing about the gamification of your digital advertising stats is that you can learn from them. For instance, we have learned that 25 tweets a day is better than 35. We discovered that Google+ is awesome and effective - it's a constant learning process.
By checking the stats hourly, If we are having a slow web hits day, then we work extra hard to get the numbers back up. It's real time digital marketing watching the world respond
When helping people work on their marketing, and the HubSpot™ automated marketing platform, we take gamification really seriously. It's so important we gave it an entire stage of its own in our Grow Sales Fast™ Business System.
To find out more about the Grow Sales Fast™ Business System, click here.
It's a total immersion into the quest to get you sales, plus you get to have fun with your business!