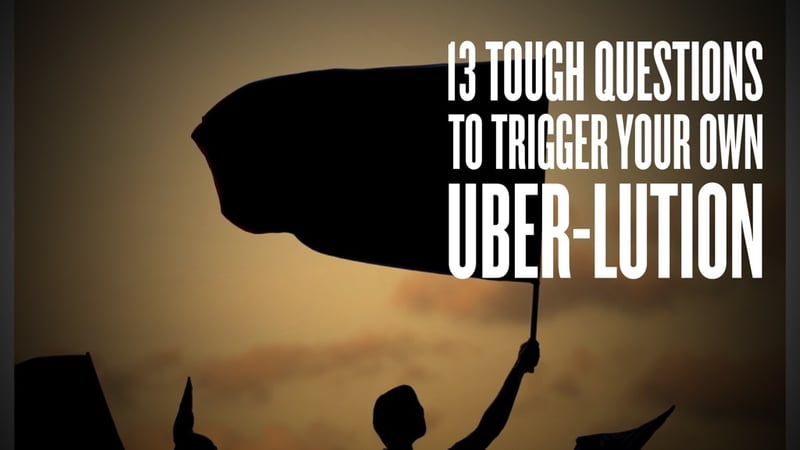 As I walked across the road to my awaiting Uber car, taking me to the Melbourne airport this morning, a cruising cab driver passed by.
In a former commuter life, the passing cab would have been the release of airport-rushing anxiety. Early morning commuter flights are stressful. That alarm clock-watching, fear of missing the plane. But with Uber we fear no longer.
With Uber, you know your ride is going to turn up, you know the driver is going to call if they can't find you, and you can see the car map location at all times.
Plus, the car is clean with free water, free mints and a driver keen to maintain a 5-star rating.
My Uber Black ride was $8 more expensive than a cab. I chose not to balance the ledger by gobbling up $8 of free mints nor grab a couple of free waters, even though my driver would have obliged.
The point is this. There is no going back. Damage was done. The cab never won my business. It was purely a default choice. Now the cab industry is in a dogfight to the death. They still (incredibly) have made no move to win the hearts and minds of the customer (where is the "we are cheaper" PR campaign?). They prefer to wage war on the steps of Parliment House.
There are important business lessons in this. Fall asleep at the wheel (this happened to me in a cab once -eek!) and wake up to a new dawn, not knowing what you missed.
The taxi industry has been poor for years, yet with their knowledge of commuter transport they could easily have invented the ridesharing option before it was too late. They got caught napping. Tech does this to business not keeping up.
Before I hit you with 13 brutal questions, I declare, we sell a legitimately evolutionary product. HubSpot. It's not for everyone, but it is revolutionary for many companies.
HubSpot is a disruptive software powerhouse. The leader of the inbound marketing revolution. Founded in 2007, HubSpot has 16,000 customers and 2500 Certified Partners, (of which we are one). It's NASDAQ listed with a $2 billion market cap. HubSpot has year-on-year, Über-like growth of 48%.
HubSpot is the leader of the exploding automated sales and marketing market segment. Throw in Marketo, Infusionsoft, Pardot and Eloqua and you have a new category of software that is making sales and marketing simpler, by using computers.
Inbound marketing works. HubSpot and it's competitors make a difference, just like Uber.
How much would you pay for less marketing overhead, 24/7 staff and faster marketing turnarounds? Greater market exposure, better sales, better deals, more deals, better leads, accountability, warmer leads, legitimate traceable ROI, better analytics? Sounds like a dream, right? No.
Automated marketing software is another evolutionary stage of the IT revolution.
In the USA, businesses have realised automated marketing software is a key tool for the future. In Australia, as usual, we are later to wake up to a new tech evolution. The MarTech (Marketing-Technology) era is now upon us, and upon you. Like it or not.
As smart, innovative businesses get HubSpot and inbound marketing working for them, they are eliminating the slow and tardy.
So, if you are ignoring or are blissfully unaware of the MarTech revolution, we hit you with thirteen blunt, nasty questions.
Are you going to be late to market on this?
Are you going to let your competitors go first?
Is your lack of knowledge and fear of change going to hand the advantage to your opposition without a fight?
Are you concerned if you are too late to market?
Why do you fear tech change?
What is the reason behind your fear of legitimate capital investment that brings about growth and productivity?
Are you struggling with technology change?
How long can you survive with dated practises while the world marches on?
What is it about the fear of the unknown that paralyses you to act?
Isn't it time you did understand computers?
Why are are you stubborn with your budgeting?
Are you scared to confront the fact that the old advertising ways are dead?
What's stopping you from going digital?
Evolution promotes change, and revolution forces it.
If you want to evolve to the next wave of tech innovation, then we are here to help guide you.
Discover what the noise is about and hook up for a chat. Why not attend a free seminar, watch a 12 minute HubSpot demo, get a free web audit, read a case study or sign on for a free 30 day HubSpot trial.
It takes exactly zero dollars to discover what might be the next big thing you miss.
Personally, I love Uber. I love HubSpot and trying innovations. Changing old ways has led to remarkable benefit for millions of businesses globally. It is evolution.
But is it evolution? Nah, it's more that that, it's revolution against the old and tired.
Viva la Uber-lution.