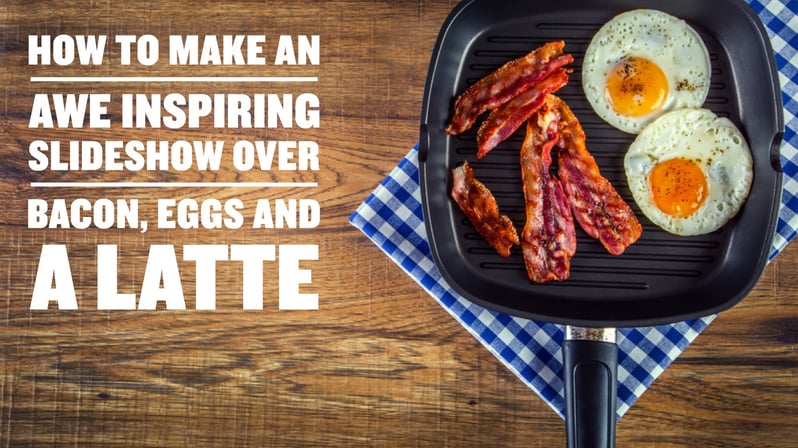 For iPhone users, there exists a fantastic tool that make it so easy for you to create amazing slideshows.
Keynote on iPhone - it's better than desktop.
Keynote on the iPhone is a simple to use, yet powerful tool. So much so that you can slideshow while you're having your morning coffee, enjoying bacon and eggs before waltzing into the packed auditorium and wowing the crowd.
WordSwag, the must-have iPhone App.
WordSwag is a great content creator that can make your slides interesting very quickly.
When our digital marketing team is preparing for our content marketing seminars every month, our team will typically build the slideshow from content that was pre-created, all using WordSwag.
WordSwag quickly brings together engaging type with interesting photos for a sensational result.
Once 'swagged, save it to your camera roll of your phone and then import into Keynote, resize it and you have an awesome slide.
It takes about one minute to make each slide. So by the time the last slice of bacon is finished, the whole incredible slideshow is built.
WordSwag also lets you watermark your slides with your logos.
Dominate the room
Once you have finished the chocolate off your cappuccino, you can boldly stroll into the auditorium, take your iPhone and link it to an Apple TV-enabled screen and your iPhone drives the entire presentation.
Get even more value by repurposing it on SlideShare and link into LinkedIn for greater engagement. View the Slide Show here.
Get away from White backgrounds
Always make your slides on a dark gradient background. Projectors and TV panels usually have an off-white background, which makes your slides look washed out and hard to read.
Would you like help making a marvelous show? Contact us today, our social media and graphic design team can help you.
We create content marketing strategies that get you sales.