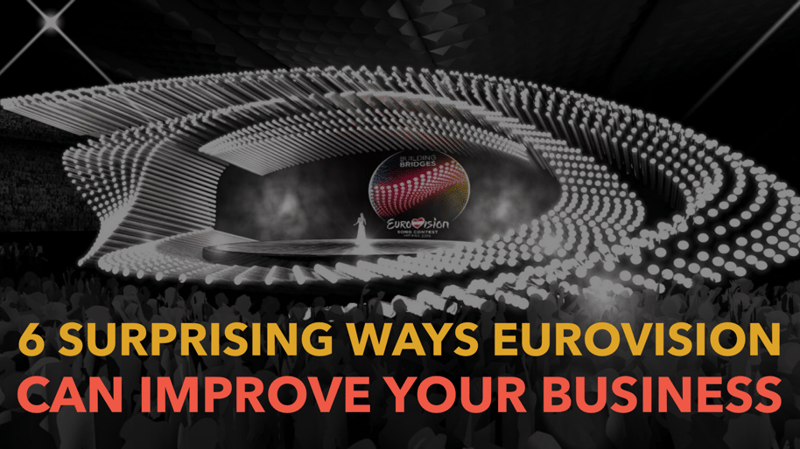 Once again it is Eurovision time, this year with a slightly strange twist - Australia made a guest appearance. It's always entertaining watching, but there is also plenty to learn from this multimedia extravaganza to give your business a rev up. We discovered 6 surprises that can help your business.
Competition brings out the best in everyone
So, make your workplace more competitive and engaging for your staff.
The competition amongst the nations in Eurovision makes it engrossing and consequently, it is enthusiastically watched by millions of viewers all over the world. It's more than just the song contest, it's international vocal cord warfare.
Competition makes you stronger.
Gamify your business, get some stats from your digital marketing and use them to drive high performance.
You need a phenomenal stage
Eurovision is worth the watch simply for the stage and lighting effects. Even the average acts still look fabulous, and the best acts look simply mind blowing. So is the stage that you perform on incredible?
Is your boardroom creating an enormous impact?
Does your retail shop front look exemplary?
Does your business card announce you as the next big thing?
Is your reception foyer spotless, well lit and inviting?
Are you greeting customers on the phone in a way that is warm and welcoming?
Is your digital email signature up to date and telling your customers what you do, with helpful links driving traffic to your website?
The better the

stage,

the more engaged the audience is.

Interaction makes anything more interesting
Including your audience creates greater interest.
The engagement opportunities for Eurovision including Twitter, international voting and the television dress up leads to massive audience participation, and everybody feeling like they are participants in the event.
Interactivity heightens the interest as well as the media hype, building the excitement of the occasion.
Are you providing interactive touch points to your business? Are they interesting and engaging? Is your social media presence actually adding value to your customers day? Are you providing an opportunity for your customers to engage with you in an exciting way?
People love fun and are attracted to entertainment, shying away from the boring. Make sure your e-commerce experience is enjoyable and your content is attractive.
Video is King
The Swedish Eurovision champion was simply outstanding the song was great, but the interaction with the video and lighting was impressive.
An excellent use of sight and sound working together provided the winning edge.
Are you using video to enhance your business? Facebook loves video wall posts and YouTube is the 2nd biggest search engine. Twitter and Instagram are all using video as well. It is the age of the video.
Does your business have a video backdrop, lighting and camera?
You need it. It's time to get on board now if you don't have it.
Innovation must happen
ABBA won this event 40 odd years ago and went on to be superstars. Incredibly, there are still plenty of ABBA rip-offs every year.
Doing things as they have always been done won't guarantee victory or success in the future. Genuine innovation and quality are the keys to your business growth.
The internet is creating revolutions on a daily basis. Open your mind to discovery all the time. Don't get caught sitting on your laurel, comfortable in copying others when you should be trying to invent your personality and create your magnificent act.
South Australians can play on the world stage.
South Aussie Guy Sebastian was fantastic. 5th is an incredible performance. Guy is a University of South Australia graduate; it was a beautiful performance, marching into Eurovision so boldly.
It's a competition that has been a part of the European DNA for decades yet he did very well debuting the nation. Well done Guy, we are proud and inspired by your efforts.