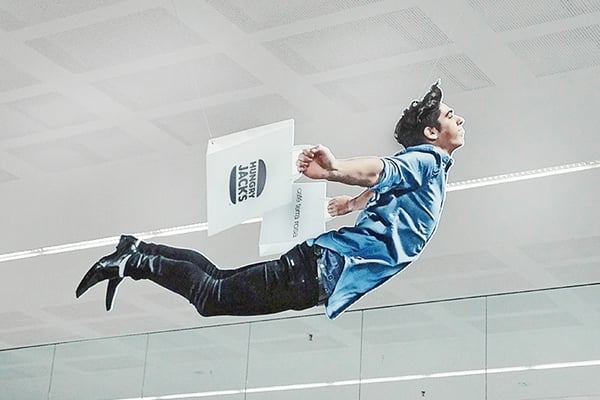 A 3D canvas allowed for a great way to show off that shopping is taking off at the Adelaide Airport. The idea of hanging bag clutching shoppers from the ceiling provided a unique billboard to remind shoppers of the fantastic retail experience that is Australia's award winning Adelaide Airport.
Working with such a high ceiling in this gorgeous building gave us a great platform to simulate people to buy before they fly.
In January 2015, The Kingdom was nominated by Campaign Brief as the second-most creative agency in Adelaide. With the growing shifting sands of-the digital revolution, we decided to pivot and become a value-added reseller for publically listed company HubSpot.
About The Author

Adam Steinhardt The Kingdom Chief Executive Officer. After 14 years as a pole vaulter, representing Australia, Adam was the founder and Managing Director of Next Byte - Australia's largest Apple Reseller back in 1995. After ten years in the business, he sold out and in 2009 founded The Kingdom. As Managing Director, he is the head of the HubSpot Inbound strategy, creative direction, account management and making sure that your business profits by using our services. Adam is Inbound, HubSpot and Partner Certified by HubSpot. In September 2015 The Kingdom was presented the HubSpot International Partner of the Year award, and International Rookie of the Year Award. You can find Adam Steinhardt on Facebook Twitter Google Plus LinkedIn this website
Speak to
The Kingdom
, today. We are a Platinum HubSpot Partner and software developers. Discover how our Inbound Marketing and Lead Generation techniques help Californian, Melbourne, Sydney, Brisbane, Gold Coast, Perth and Adelaide businesses to grow sales using the HubSpot Sales and Marketing platform. Headquartered in Irvine California, with our growth hackers located in Adelaide South Australia, we provide digital marketing and social media services for your business. We are Australia's leading Inbound Marketing Agency and the Hubspot International Partner of the Year 2015.
Want more great content? Subscribe today.
---
New here? Start with our best hits.
Back again? Read our latest posts.