If we think back to 2008, social media was little more than the collective swell of teenage angst cobbled together amongst band profiles.
We've seen the demise of the much loved MSN Messenger, the death, rebirth and repeated death of MySpace, the global domination of mobile hand-held devices and we now find ourselves at a moment in history where even our grandparents are on social media "just to keep in touch with the kids."
Reach into your pocket and you have the ability to communicate with the world at any moment. The flipside of that is that the world also now has the ability to communicate with you at all times as well.
The First Ever Presidential Social Media Strategy
We're looking back to 2008 as that is the year that Barack Obama was first elected President. At the time, it may have seemed curious that he utilised MySpace and Facebook as part of his campaign, but it worked to tremendous effect. Back then his campaign team spent a reported $643,000 out of their $16 million online budget to promote his Facebook account. He reached 1 million followers during that time, before being one of the first big brands to target specific demographics using the platform through the creation of individual accounts such as Veterans for Obama, Women for Obama, and African Americans for Obama. Meanwhile, on Twitter, his account intermittently became the most followed on the platform.

During the 8 years of his Presidency, The White House excelled in engaging the world via social media and technology. They were progressive, relevant and matched the latest trends seamlessly. And they entertained. When the POTUS Twitter account launched in 2015, the very first conversation shared between President Obama and former President Bill Clinton became viral news.
At the close of his Presidency, Barack Obama ranked only behind Justin Bieber and Katy Perry on Twitter followers and remains one of only 4 members of the platform to exceed 50 million (his number is 83.2 Million as of January 24, 2017).
Barack Obama's social media was actively engaged by hundreds of millions of people the globe over. His brand was personable and personal, while also political and Presidential. There was a clear language defined and his frequent use of shared links and infographics, which balanced his entertainment content, was evidence of a strategy that knew that their influence would be greater if the could not only speak to the job of being POTUS, but the human side behind it.
The Transition of the POTUS Brand

As of January 20, 2017, the POTUS Twitter handle was officially passed to President-Elect Donald J Trump, and the fascinating transition of the page to represent not only a new figurehead, but also a new rhetoric and party allegiance.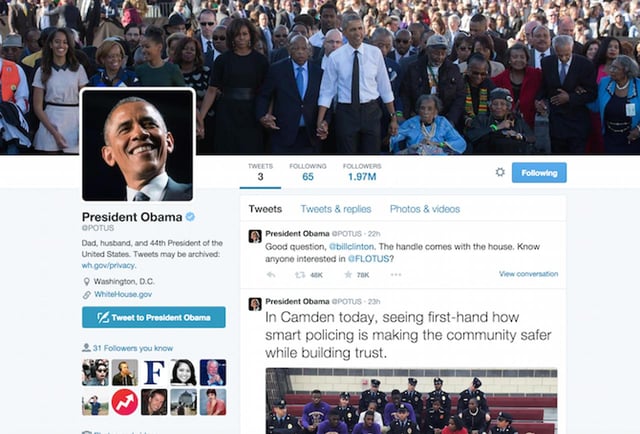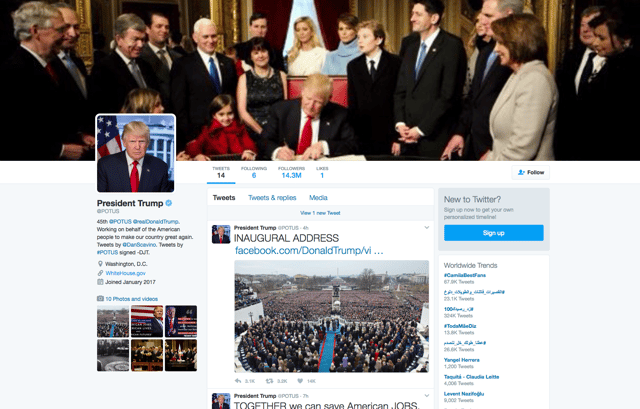 Twitter is not traditionally a visual platform but it is in the visuals that the most striking contrasts are presently evident. Trump's communication is of power and strength as a figurehead and aligns with his personal branding as the leader of his business empire. Visually, it's very arresting. Trump has stated already that it's likely the POTUS Twitter will be managed by his staff, while his handle @realDonaldTrump will be his main line of communication via the platform. This is likely to be a wise decision, as POTUS's effectiveness is likely to be tempered for the moment where voters and supporters of Obama and the Democratic Party move away from the platform while Trump and Republican supporters come across. In essence, it's like a complete relaunch of the brand and they'll need allow time for the shift in demographics.
Presently, Donald Trump's personal account reach stands at 21.7 Million on Twitter and lags well over 50 million followers behind Obama's. His team will no doubt look to take the time to address this and ensure that he is able to bring his supporters across to his social platforms to transform each into an effective communications tool and rallying point.

Are we likely to see the same proliferations of GIFs and Memes for Trump? Well, that depends upon how you look at it. Obama created moments perfectly suited to these forms of online entertainment. Trump may end up being a part of them, but less involved in their curation.
Fake News & Social Media
Something which has been a hot topic of debate during the Presidential race, and looks likely to continue to be so moving forward, is the role that social media plays in the spread of fake news. Facebook were forced to address fake news directly in December and have announced active measures to monitor and remove disputed news stories from their feed.

During the campaign, of course, there were widespread allegations from both candidates that fake news had impacted the result of the election, and recent allegations that Russia had a hand in some of the stories.
Irrespective of these stories, what is clear is that this election has influenced how social media platforms will code their feed moving forward. The validity of viral online stories is being reconsidered. They can no longer be considered valueable purley based simply upon the numbers reading them.
An Educated Prediction of POTUS Social Media Moving Forward
The Commander-In-Tweet is a curious case, and we've heard only snippets so far about what the new administration's plans are. Press Secretary Sean Spicer has indicated that Trump will "put his thoughts out and hear what they're (people are) thinking in a way that no one's ever been able to do before." For his part, Trump believes that social media provides him with a channel of reply to the media, stating to CBS "I'm not saying I love it, but it does get the word out. When you give me a bad story or when you give me an inaccurate story."
From the early days, it appears that Facebook and Instagram won't be his focus, but his trusty Twitter will remain a personal insight into the man. Considering that POTUS is a news-generating machine, it's unlikely that Trump's restrained tactics on Facebook for the mean time will go noticed as he is undoubtedly going to be a feature on that platform irrespective of how his team use it. In terms of Instagram, it appears to be a very personal and candid place presently, serving family and behind-the-scenes snaps juxtaposed by screen captures of his Tweets to reiterate his statements.
But be prepared for the strategy of those platforms to change markedly as the Trump Presidency continues. It would be lax of his media team to ignore the massive growth potential of his brand on each platform and it's likely they will heavily focus towards growing these platforms in the coming months.

As for the messaging, what Trump brings is a distinct voice which, like it or not, definitely connected with his supporters. It's likely that his media team will try and compliment his existing style and reputation and massage things to be more aligned with the party.

As for the POTUS account itself, we will see how closely it mirrors his personal account. For the moment, it seems that POTUS will be slightly more controlled and calculated in delivering messages.
Here's to the next 4 years of Presidential social media!
Would you like to learn more about social media tips for your business? If so, here are some links to learn more:
Facebook for Business: What You Need to Know
3 Hot Apps to Improve Your Social Media Engagement
11 Point Guide To Kick Starting Snapchat For Business
Otherwise, download our free eBook on Social Media for Business - it's full of great tips, tools and advice you can use to get your social firing.