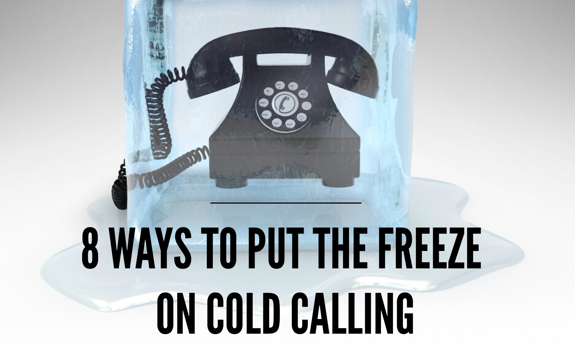 It's probably the scariest thing about sales, the dreaded cold call. It's rare to meet a salesperson that likes doing it. Plus in today's day and age, it's hard to do. It is getting harder and harder to get through to people. People are call screening the cold callers out of business.
The Kingdom team tackle the issue head on. Here are 8 ways to banish cold calling forever and get leads coming in the door fast.
Cold calling only exists because you do not have enough leads coming into the business, so let's fix the cause, not the effect.
8 Tips to banish cold calling to the freezer:
Get the leads coming to you. Get a content marketing strategy that attracts people to your website. More pages, more answers, more action. Build your website into the Wikipedia of your industry.
Use the web to harvest emails so you can talk the customers in the future and not just lose your potential leads. This means you need a way to get them to do something at your website.
Creative incentives for people to engage with you. Offer content, information, seminars, webinars, incentives to sign up and be interested.
Be honest and free in giving customers information. The more educated they are by you, the more they trust you. From here the leads will follow, when combined with a good content marketing strategy.
Create an Inbound marketing strategy and set up landing pages and calls to action to get people engaged with your website
Get pixel tracking working for you so people see your brand more often. These clever pixel tracking ads can work for as little as $20 and have great results.
Implement an Automated Marketing Platform like HubSpot, Marketo, Eloqua, Infusionsoft or Pardot. These incredible cloud platforms make it so much easier to fire up your marketing.
Invest in your website, get it working for you. Websites need hard work, but it can pay off with a smart strategy. Oh, and make sure your website is responsive!
Discover Why Responsive Websites are hotter than Jenifer Lawrence right now.
Invest in a Content Marketing Strategy
To get your business banishing the cold call forever. Speak to The Kingdom digital marketing experts today, our Grow Sales Fast™ Business System can get your sales people bouncing.

As Adelaide's leading HubSpot™ Certified Partner, we can guide you through the steps to expelling cold calling forever, and get your business firing. Find out more about HubSpot™ here and how it can get rid of cold calling in your business.