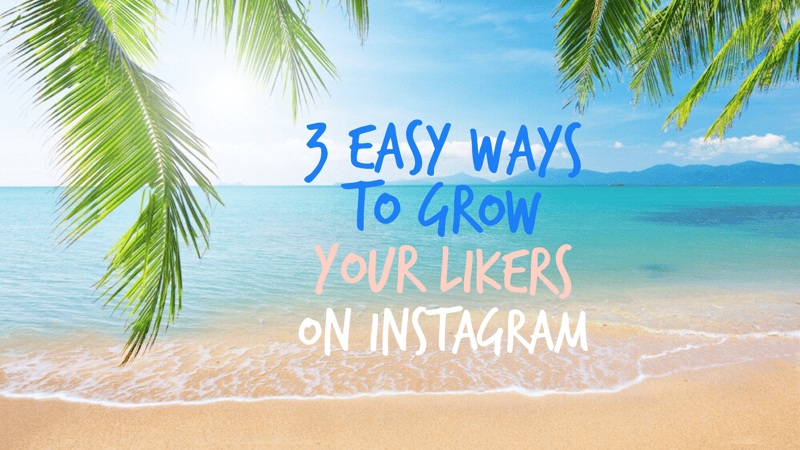 If you are a personal Instagram user, chances are you are very particular about who you follow and who follows you. However, if you are a business - the whole idea is to grow your follower base.

So if you are new to Instagram it can be quite daunting, how do these people get such high followers?

Here are 3 easy ways to increase your followers.
Hashtags
Hashtags, they can be annoying and not used properly (yes, there is a proper way), however, use these little babies correctly and you will reap the rewards.

As a business, you should formalize your hashtags. Think of one that is relevant to your business, it might be your name, for example, #thekingdom #stylerunner.

Lorna Jane encourages engagement with the hashtag #movenourishbelieve. This is a creative way to create content. As the owner of the hashtag, you can search on this and then regram (repost the image) the image, giving credit to the original source. A really easy way to connect with your customers.
Hashtag your event
Hashtags are also amazing for events. It is the perfect way to group together all posts from all of the users at an event. More and more businesses, large and small, are starting to use them on their above the line advertising, a direct salute to the importance of social media in business.

A fun example to try: take some time to research which hashtags work well and which don't.
#flower is one of the most popular hashtags there is, so mix it up a little; don't be afraid to post images that might not be immediately relevant to your business. A Sunday hike might find you in a field of gorgeous yellow daisies (sounds ideal right??), take a photo and post it on Instagram with the hashtags #flower #hike #yellow, then watch as the likes come pouring in.

Follow others
Take some time to follow some other businesses. The 2 most obvious business types here are your suppliers and your competitors.

You can be cheeky too and tap on the followers of your competitors and start liking them - there are no rules around this so go for it!

Use tip 1 in reverse and search on a hashtag that is relevant to your business. This is a really easy way to start following people who are already active in similar areas.

Search on your geographical location. Instagram has just released Version 7 of their app. Now you will be able to search on images by location as well as people and tags. Why is this so cool? If you are based in Adelaide, you can search on Adelaide, therefore finding new followers who are in your geographical location.

Working with the team in an inbound marketing agency we often find it frustrating to not be able to find followers close to my business. It's great to have followers, but are the followers from Texas or France really going to impact on my business?
Cross promote on other channels
Rarely do I see examples of this done well, let alone at all.

It is a pretty straight forward proposition. Share your Instagram details on Facebook and Twitter, Share your Facebook & Pinterest on Instagram.
You may think that just because you have the icons on your website people will go to them - but this is not always the case.

Give your Instagram followers a taste of what goes on over in your Pinterest boards, Share one of your most popular pins on Instagram - remember to reference your source if it is not your own pin.

By cross promoting you can catch the people that might only follow you on one platform. You will rarely cross over with content at the same time if you have planned your posts effectively. Your followers will continue to learn more about your brand or business and how you can help them.

So there it is - 3 easy ways to gain more Instagram followers.

Good luck - see you on the channels!

Discover 6 reasons why Instagram is so hot right now.