The team at The Kingdom have attended countless conferences and regularly run our own seminars. We also have experience in operating large scale corporate functions.
We'd like to share some helpful tips with you to ensure your event is a success!
Table Layout
It's important your whole audience can see the presenter. Having your audience sit at round tables means many people will be facing the back, which is less than ideal.
Round tables are for breakfast.
It's good practice to arrange the room with theater style seating. If tables are required, rows of straight tables all facing forward or a horseshoe arrangement work well.
Supplies
Having essentials like pens and paper available for all guests is paramount. Inevitably someone will forget to bring a notepad, their pen will expire or the battery in their iPad will go flat, leaving them in a bit of a pickle.
Food & Water
People need water. Having bottles or a fountain available to quench your guests thirst or squash the tickle in the back of their throat will greatly improve their experience.
If your show is to go all day, providing lunch will keep the attendees nourished and attentive all day.
Encourage Mingling
Everyone at your seminar shares something in common, it's a great opportunity to encourage mingling and networking. A cocktail style lunch or post-seminar drinks is a sure-fire way to get everyone chatting.
Ambiance
Creating a comfortable environment for your guests ensures they won't pop out half way through. Background music when nobody is presenting and lighting should be abundant.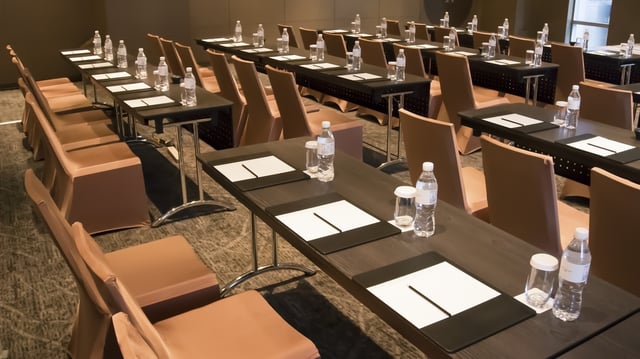 Business Card Raffle
If your guests are unknown to you, offer a business card raffle with a substantial prize. You'll end up with a pile of business cards and contacts to go straight into your CRM.
One happy punter will leave with a magnum of Moët.
Timing
Be prepared for your seminar to go longer than anticipated. Presenters will ramble, question time will get carried away and mingling shouldn't ever be cut short. Hastily ejecting everyone because it's past finish o'clock could lose you a lead. Nobody wants to lose a lead.