HubSpot vs. Marketo. This is a showdown between the two biggest marketing automation companies in the marketplace today.
What is marketing automation?
Marketing automation brings together digital tools into one easy platform, making the life for marketing managers and business owners so much easier.
By using automated marketing software tools, you can streamline your operations and spend your time creating content that is interesting and engaging to your potential customer. In this comparison, we compare the two market leaders, HubSpot vs Marketo.
The results and graphics are sourced from: https://www.g2crowd.com/compare/hubspot-vs-marketo
HubSpot includes the following tools.
Blogging
SEO
Social Media
CMS
Lead Management
Landing Pages
Calls-to-Action
Marketing automation
Email
Analytics
Personalisation
A/B Testing
CRM Sync
The HubSpot CRM
HubSpot™ CRM gives you everything you need to store contacts and companies, track deals, and manage tasks easily. Personalise your views, create custom fields, and filter to find your best contacts instantly.
Marketo includes the following tools.
Marketing automation
B2B marketing & lead management
Marketing management
Budget & calendar
Real-time personalisation
Personalisation across channels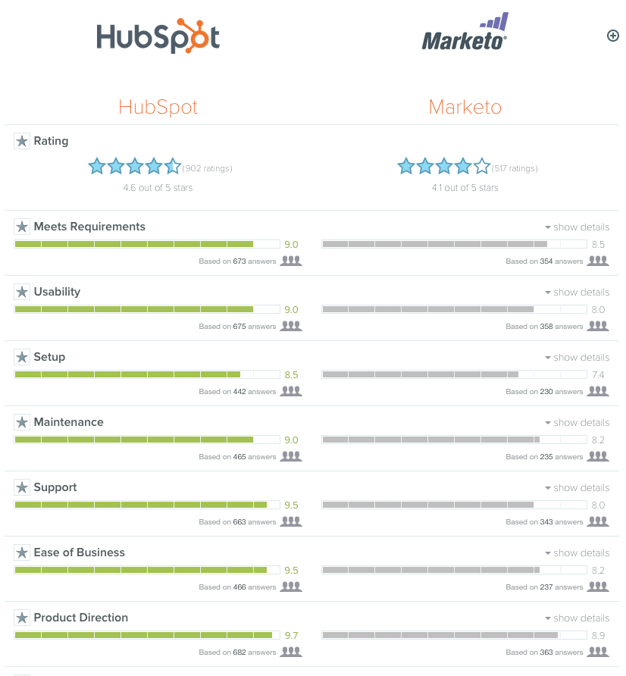 With the built-in analytics of a program like HubSpot, you spend you time understanding what is working, generating leads, rather than trying to make many different platforms work together.
Provided by third party review company, technologyadvice.com, they compare the differences between market leader HubSpot and its competitor, Marketo. http://www.g2crowd.com/categories/marketing-automation
What is Inbound Marketing?
Inbound marketing is at the core of the HubSpot process. This process attracts your customers with engaging, trust creating content, which then helps you convert and close the customer. You spend more time closing deals than wasting time cold calling.
Combined with the advertising engines of Facebook pages for business, these tools are become lead generating machines - with a dynamic growth often the result.
Speak to The Kingdom and discover how our inbound marketing and lead generation techniques help Melbourne, Sydney, Brisbane, Gold Coast, Perth and Adelaide businesses grow sales fast using the HubSpot™ Marketing and CRM platform. We create inbound marketing strategies that get you sales.