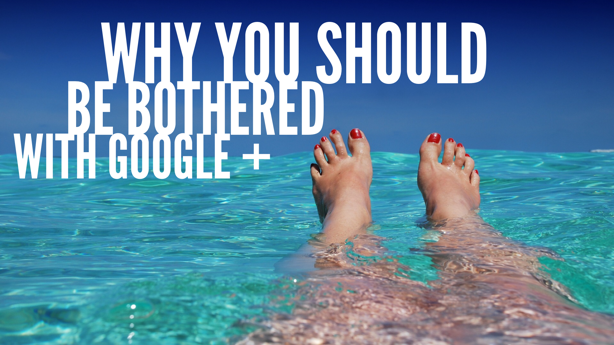 There are so many rumours that circulate about Google +. It's on its way out, no, wait it's back in again, and so on and so on. All this flip-flopping has gotten people all turned around, do you use it, or not?
Meanwhile, back at The Kingdom, Google+ is still functioning and humming along quite nicely I have to say. While the powers that be play the hot potato with Google+ attractiveness, the rest of us are keeping on pushing away. Why do you ask? Because Google+ is awesome.
Here's why our team of content marketing experts and social media specialists swear by Google's answer to social media.
Google owns Google plus
The name kind of gives it away. But think about what that means! Having a Google+ profile, especially for your business, will absolutely help with your Google search rankings and SEO - pushing you up the page and into the view of your target audience.
It's an awesome mobile app
The mobile App for Google+ is awesome. Your feed is presented in one stream rather than the scatter you get on a desktop, enabling you to scroll quickly and stop to +1 something that catches your eye.
It's all visual
I find Google+ to be way more visual than Facebook - and I love that. Recipe images from Australian Gourmet Traveller are so bright and clear I can practically taste them; The NASA feed is amazing, brilliant and educational - guaranteed to amaze your little humans if you share it with them.
It's great for business
Look no further than Google+ for a brilliant platform to propagate your blog story and page links from your website. Google+ does not have the same crazy algorithms as Facebook, so if you share something, all the people who follow you will see it - not just the .000125% of your facebook likers.
You can use Hashtags
Google+ is hashtag searchable; this isn't unusual or new - just cool. Using hashtags is another great way to grow your fan base if you have a business page, just make sure you are consistent with your use of hashtags. The more you use them, the more you can be found.
The amazing sorting feature
The sort feature…what can I say other than it's incredible. By clicking on the small arrow at the top of your screen on the App, you can sort! Nearby is a great way to follow new people and businesses who are, well, nearby! If you are into photography, sport, music, you can see feeds from that genre, not necessarily of who you follow.
In short, don't underestimate the power of Google+. I still love facebook, and that will probably never change. But, as a business professional, I see greater value in being on Google+ more often - we have the amazing HubSpot stats to prove it!
To discover why Facebook clicks are more important than likes, click here.
Speak to The Kingdom and discover how our inbound marketing and lead generation techniques help Melbourne, Perth and Adelaide businesses grow sales fast using the HubSpot™ marketing and CRM platform.