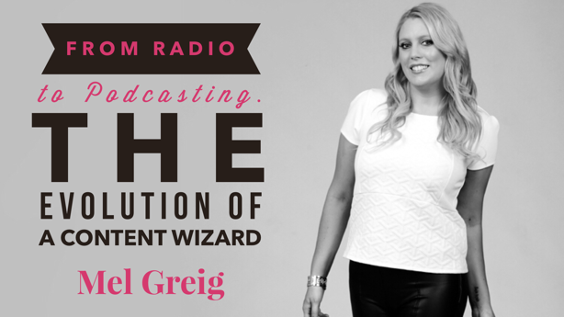 The evolution of Broadcast Radio to Podcasting and now to content marketing is an exciting move for Mel Greig. No matter how hard you look, search, seek or train you can't beat natural creative imagination, and Mel Greig has loads of it. During a 16-year radio career that took her to the heights of Australian Radio, Mel had to continuously create content.
Sharp, funny, witty, interesting - Mel Greig.
It takes just minutes to realise she has the knack of finding an interesting angle on pretty much anything.
Mel has had to learn the art of identifying and delivering engaging content, fast. After the tragic prank call of 2012, Mel has spent a lot of time analyzing content and how we create it. She is adamant that we don't need to be careless to create great content.
Honed by years of pressure in a cut-throat, ratings-driven world, Mel has had to learn the art of identifying and delivering engaging content fast. Mel has been quite open about her struggles to regain employment in the Radio Industry, her passion to use her voice and to create content has not diminished.

A world beyond radio.
The Kingdom has been able to identify that Mel doesn't need to work in Radio to achieve those goals, her skills are transferable into our fast paced industry and we are delighted that we have the chance to open innovative new doors for her, excited about the talent she brings to our customers work.

Content marketing is driven by imagination.
The Kingdom, as content marketers, seek imagination to bring our customers content to life, so having a professional with such incredible skill is fantastic. It's a great match as The Kingdom has such incredible digital marketing understanding, giving us opportunities to transform our existing skills into new age marketing professionals, doing great things for our customers.

The bold new world of Podcasting.
Podcasting is exploding. A greenfield is just waiting for Australians to discover, made all the more possible by Apple Carplay and Google Android Auto, which is now being built into new cars globally.
Podcasting is a whole new global, on-demand world that Mel has just begun exploring. With the help of the social media team at The Kingdom, there is now doubt she will be become a podcast pro pretty quickly.
Mel's quick thinking imagination is fantastic, simply extraordinary. The world of content marketing is just perfect for her. - stated The Kingdom CEO, Adam Steinhardt.
We had a bunch of podcasts ready to go to market, but we threw them out the minute Mel touched the mic. So far, the podcast pilots are unbelievable. We have just lifted 300% with the contribution from Mel so far.

There is going to be an exciting announcement soon about the podcast show(s). The incredible social media entrepreneurs like Marcus Sheridan, John Le Dumas, Joe Pulizzi and Michael Stelzner have blazed the trails of the podcast world, might it be time for an Aussie lady to join the ranks?

Speak to The Kingdom and discover how our inbound marketing and lead generation techniques help Melbourne, Sydney, Brisbane, Gold Coast, Perth and Adelaide businesses grow sales fast using the HubSpot™ marketing and CRM platform. We create content marketing strategies that get you sales.