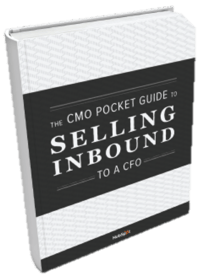 Are you looking to put your company at the forefront of business and marketing innovation? It's a goal held by many, however, it can be quite difficult to convince the CFO to approve, especially if they don't see the immediate value.
So how can you change this? How can you make your case effectively?
By downloading The CMO Pocket Guide to Selling Inbound to a CFO, you will learn:
What concerns and pressures you need to address
How to speak the CFO's language
How to speak finance to explain inbound marketing
Why CFOs relate well to PPC
How to handle C-Suite objections
How to present "Optimising Our Marketing Investment with Inbound" to your CFO
This pocket guide gives you the tools and strategies you need to make a difference in your business.